Field Trip Fun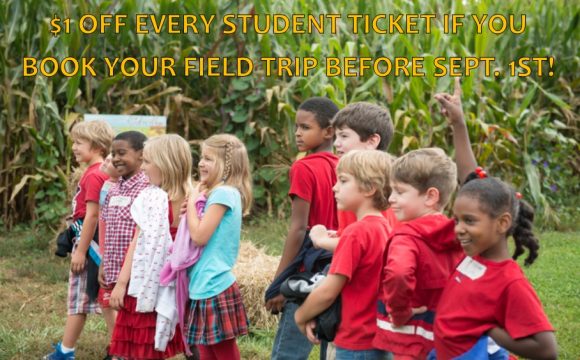 Field Trip Basics
Fields trip may be scheduled Tuesday – Friday during the Annual Corn Maze


Sept 18th through 21st
Sept 25th through 28th
Oct 2nd through 5th
Oct 9th through 12th
Oct 16 through 19th
Oct 23rd through 26th

Our hours of operation for field trips are from 9am-3pm
Two teachers and one bus driver will be allowed free entry for each class
Our ticket price now includes access to the jumping pillow, spider climber, corn cannons and all other maze attractions
Keep in mind that we have ample areas, both indoor and outdoor, for picnics and lunch breaks
---
Reserve Your Field Trip
To book your field trip, please complete the Field Trip Registration Form and return it to . After submitting your form you will receive a confirmation or date adjustment request and an invoice. Invoices must be paid before entry into the maze.
Please look over our 2018 Field Trip Guidelines to ensure that your class is prepared for all of the fall festivities!
---
How the Storybook Trails Work
For younger students, we have two storybook trails! Children read stories as they walk the 3D Storybook Maze Trails. Not to worry though, these trails feature a simple, no-wrong-turns path, as not to intimidate our young participants!
The first trail features the popular story of Spookley the Square Pumpkin in honor of National Bullying Prevention Month. The story of Spookley promotes diversity, discourages bullying, and (most of all) helps students have fun! Students can also have photos taken in a special storybook cutouts!
For an educational resource packet about Spookley, Click Here! Use this to make your field trip experience more enriching for your students!
---
Learning Opportunities at the Maze in October
October is both National Bullying Prevention Month and National Farm to School Month. The Storybook Trails are great opportunities for educators to tie the field trip to the corn maze into a larger curriculum that focuses on bullying prevention and/or local foods and farming.
Our friend Spookley is the "Official Spokes-Pumpkin" for National Bullying Prevention Month in October through a partnership with the National Bullying Prevention Center. Here at Eliada we are delighted to partner with Spookley & the National Bullying Prevention Center to raise awareness for bullying prevention.
---
For any questions regarding field trips, simply contact Chris Rainwater at (828) 254-5356 Ext. 300.