Eliada Farms
Welcome to Eliada Farms!
This is the home of Eliada's many farming projects on our 320 acre campus.
Eliada began farming in the early 20th century when the agency was an orphanage supporting hundreds of children in need of a safe, loving home. The staff and youth of Eliada farmed and fed themselves from the land. As Eliada evolved over time, the farming activities slowly came to a halt.
Today, Eliada has returned to our farming roots. We believe in sustaining and being good stewards of our land. We believe in feeding our children healthy, nutritious food. We believe in providing hands-on learning opportunities for students.
What does Eliada Farms include?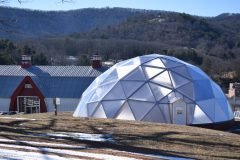 Eliada Farms currently includes a geodesic grow dome that will be used for hydroponic produce production to feed Eliada's kids. The dome will also serve as a learning lab that teachers can use on a daily basis. The exterior of the dome will include raised garden beds, outdoor seating, and native plants, creating a beautiful and therapeutic escape.
As the farm expands, we will keep you up to date on all our farming activities! Plans are currently in the works for high tunnels and dirt farming. This will lead to more opportunities for serving fresh fruits and vegetables to our children!
Learn more about Eliada Farms and our goal of sustainability
Contact
Want to learn more about Eliada Farms? Want to partner?
Please contact: Erica Blumenfeld, Farm Manager, (973) 943-8506 or eblumenfeld@eliada.org
Thank you
Thank you to our partners for their investment in Eliada Farms!
Rite Aid Foundation
CarePartners Foundation
Beverly Hanks
Four Seasons Garden Club
Friends of the Earth Garden Club
Appalachian Singlefoot Horse Breed Association
And contributions from many kind individuals!