Monthly Giving

Eliada serves the WHOLE child throughout the WHOLE year
From their head, shoulders, knees, and toes…to their eyes, ears, mouth and nose!
There are 216 months that each of us lives between birth and turning 18 years old. Each month we grow evolve, and experience firsts. This means there are also 216 months for children and youth to be neglected, abused, and passed off as someone else's problem. Together, we only have 216 months to make a difference in a child's life.
The Head and Shoulders, Knees and Toes Club is a special giving society for those who make a monthly commitment to serve children every month of the year.
To make a monthly give, click on the yellow Donate button and select recurring gift.
Here is a story that illustrates the power of monthly giving.
Belen and Emma
Belen and her daughter Emma span Eliada's cradle to career continuum.
Before we got to know Belen she was the kid who got in fights at school, skipped school, and talked back to adults. But when she was 16, she got pregnant. This was a huge wake up call for her. As she puts it, "I had to step up, and grow up."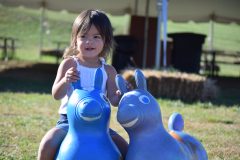 Nine months later, Emma was born, and Belen began experiencing a lot of firsts as a mom.
Soon, Belen learned about Eliada at her high school. After joining our Workforce Development program in March, she began to experience a lot of firsts. Over the next 6 months, she had job shadows, completed an internship, and had a paid apprenticeship at the Biltmore Estate.
Her favorite thing about working at the Biltmore was bringing Emma to the Estate. "There is so much space for her to run around." This was such a contrast to their neighborhood.
This past June, Belen graduated high school.
This past September, Emma started child care at Eliada.
This past October, Belen got her driver's license and first car. She also signed up for food stamps and Medicaid. She took huge steps forward towards independent adulthood.
In October, Belen also started classes at Goodwill so she could get her CNA license. She wants to work in a hospital or doctor's office. Her professional goal is to become a nurse. She will soon start classes at AB Tech to achieve this dream. "I like knowing if someone is sick, I can help make them feel better."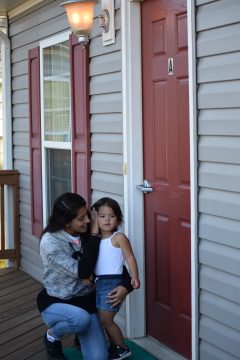 And one more thing happened in October. Belen and Emma moved into an apartment of their own on Eliada's campus. They now have big open fields to safely play in together as mother and daughter.
This month, Emma is turning 2. She can speak words in both English and Spanish. She knows all her body parts, her abc's, and can count to 5! And she's experiencing some firsts. She's piecing together full sentences and is starting to potty train.
Also this month, Belen got a job at the Biltmore, and is earning money to support herself and Emma.
For Belen and Emma, every month from here on out there will be a new first, a new success to celebrate.
YOU can help all young people experience the incredible growth Belen and Emma have achieved.
With a monthly gift, you are helping to make the incremental, month-to-month change that all adds up to big success for struggling young people.