Open for an extra weekend!
We are staying open for an additional Friday through Sunday!
Extra weekend hours:
Friday, October 31st 10-8
Saturday, November 1st 10-8
Sunday, November 2nd 10-6
Service Pets Only 
No Smoking, Alcohol Free Event 
What is Eliada's annual corn maze?
Eliada's annual corn maze is a 12 acre maze with 2 longer trails, and 2 children's trails cut out of a field of corn. Accompanying maps with check points help guide you through 4 miles of maze trails.
The two shorter trails for younger children we call "Storybook Trails"!  These trails take you on a fun adventure as you read the stories of Spookley the Square Pumpkin and Ciderella and the Little Glass Sipper!  Spookley and Ciderella merchandise are also for sale for children and families to continue to enjoy the stories and characters at home.
In addition to the corn maze, we have other fun attractions! To learn more about our attractions click here!
The event also has a large tented picnic area where you can purchase food and beverages from our concession stand, play corn toss, or hop around on bouncy horses!
Where is the maze located? 
Eliada is located at 2 Compton Drive.  Compton Drive is a residential street just 1.5 miles up New Leicester Hwy from Patton Ave!  Follow the light pole banners! For a map, Click Here!
How much does it cost?
$9 for adults 12 and over
$6 for children ages 4-11
Children 3 and under may enter free of charge
Group admission is $7 for adults and $5 for children; a group is considered 20 or more. Groups must pay as a group.
We accept credit cards at the ticket booth.
Corn Maze Groupons are available this year!  Don't forget they are valid only in September!!!!!  You can bring them in October and we'll redeem them at face value.  But if you want the deal, be sure to plan a September visit!
How long will the Corn Maze be open?
Every Thursday, Friday, Saturday and Sunday, September 5th through October 26th.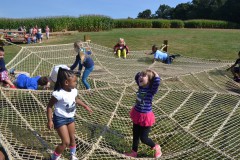 Can I bring my class on a field trip?
Yes, field trip groups are welcome on Thursdays and Fridays!  Click here to learn more!
Please be aware that the corn maze has reduced staffing during field trips. Our staff will make sure your students experience every attraction they wish to throughout the day.  We appreciate your patience!
Are there volunteer opportunities at the corn maze?
Yes!  Volunteer shifts are 3 hours long.  As a volunteer you receive a drink and light snack, as well as two free tickets to return to the corn maze as our guest!  Click here to learn more!
Can I host a birthday party at the Maze?
There is a smaller party tent that can be reserved for two-hour blocks of time for birthday parties or large groups.  The rental fee is $25. To reserve this tent please contact Brooke, Eliada's Corn Maze Manager: (828) 254-5356 x340 or .
Where will the funds go?
Eliada's corn maze is the only 501c3 non-profit maze in WNC. 100% of our proceeds benefit children at Eliada.
Can I sponsor the Corn Maze? 
Yes! We have wonderful benefits for sponsors. Click Here to learn more about sponsorship or contact Tami Ruckman at 828.254.5356 x 306 or via email at .
Who should I call if I still have questions?
If you have questions, we want to hear from you! Contact Brooke, Eliada's Corn Maze Manager at 828.254.5356 x 340 or via email at .
Corn Maze Press
Click here to read an article in the Citizen Times
Click here to read an article in Mountain Xpress
Click here for an interview with Victoria Dunkle of WLOS!
Click here for a Never Stop Learning Segment with Tammy Watford of WLOS!
Click here to see our fun PSA!
Click here for our Spotlight Carolina Segment!
Check us out on Mix 96.5!