Eliada Charity Classic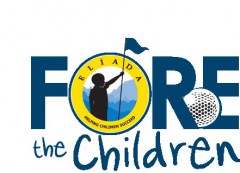 The Sixth Annual Eliada Charity Classic will be held Friday, May 3 at The Grove Park Inn's famed Donald Ross course, which Golf Digest rated as one of the top ten courses 100 years or older. Tournament registration is $200 for individuals and $600 for a team of four, and includes all golf & cart fees, lunch, a commemorative gift, and a charitable donation. After a day on the links, join us for a complimentary buffet of hors d'oeuvres sponsored by Corner Kitchen. The Charity Classic has developed a reputation for being a quality tournament that is extremely well organized and lots of fun.
Register Today!
Click here to download the 2013 Registration & Sponsorship Form. Give us a call with any questions: 828.254.5356 x 300. You can also reach us via email at . See you on the links and thanks for your support!
Where Do Tournament Funds Go?
For over a century, Eliada has worked to serve the "last, least, and lost" in our community by offering a continuum of programs designed to fulfill our mission: Helping Children Succeed. Some of our students live on our campus, while others come to us through programs like foster care, case management, and child development services. 100% of the funds raised through the Charity Classic support WNC children and families in need.
About The Littlest Golfer – Our Founding Sponsor
The Founding Sponsor of the Eliada Charity Classic is The Littlest Golfer. The Littlest Golfer makes resort-quality golf apparel, accessories, toys, books and equipment for infants and children—the fastest growing segment in golf. The company's golfing turtle mascots, Putter and Sandy, invite young children to explore the world. The Littlest Golfer's educational books are designed to give children the tools they need to succeed in golf and life. The Littlest Golfer has already been featured by style editors at every major golf publication including Golf Magazine, Golf Digest, Golfweek, Golf Business Magazine, Golf and Leisure Magazine, The Apparel Wire, PGA Magazine and Arnold Palmer's Kingdom Magazine.
Thank you to this year's sponsors for all their support
The Corner Kitchen
Arby's
KOHL's
Wells Fargo
Hampton Inn & Suites
Gladys Koon
Jeanne Daniel
Groce Funeral Home
Webb Insurance
Walgreens
Blossman Gas
Control Specialties of Asheville
Keith Hopper, DDS
Gerald Davies
Empire Distributors
Asheville Brewing Co.
Budweiser of Asheville
Biltmore Wines
Coca-Cola Bottling Company Consolidated
Ingles Markets