Eliada History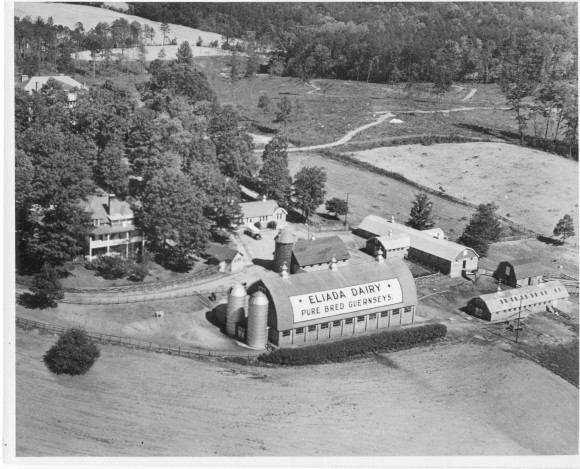 Eliada's historic records are archived at UNCA's D.H. Ramsey Library Special Collections repository. Access some of these records online here.
Eliada grew out of Faith Cottage, a ministry founded in 1903 by Reverend Lucius B. Compton as a home for unwed mothers. This house was a safe and short-term haven for these girls and women and it was the first of five homes of this kind. The last Faith Cottage closed its doors in 1971. All together, these five homes reached out to help several thousand women.
It didn't take long for the number of children not kept by their mothers to exceed the capacity of the various Faith Cottages. By 1906 Dr. Compton located a small cabin with a few acres of land located about five miles west of Asheville and opened an orphanage he named Eliada Home. The name Eliada is a biblical reference. Eliada was one of King David's sons; the Hebrew word means "one for whom God cares."
Dr. Compton and his wife, Edith Van Dusen became known as Dad Compton and Mama Edith to several thousand children. They even adopted a baby girl named Mary Elizabeth when he was 61 and Mama Edith was 55.
As the years went by more land was bought and donated (including a farm) until the campus swelled to over 1200 acres. The acreage included Slippey Mountain, upon which a large reservoir was built in 1914; a small lake in which kids swam for years; rolling hills where the hay was baled each year; and a great view of the Biltmore Estate on a clear day.
Buildings were quickly added: the school and chapel were built in 1911; the first telephone was installed in 1913; a new Main Building – the Big House – was constructed in 1915; a wood-covered amphitheater with seating for 2,500 and used for the tent meetings was constructed in 1917; and the main barn was built along with two others in 1927-1928. The fireproof Allred building, which served as the baby house, was completed in 1930, and is currently listed in the National Historic Register along with the Green Building and the Barn.
The children and staff maintained the property in a variety of ways. Together they bottled and sold milk from Dr. Compton's prize Guernsey cows. They kept chickens, sold eggs, grew much of their food, canned and pickled the produce, and helped with the maintenance of the land and buildings. This continued throughout the 1970′s, and returning alumni still refer to Eliada as "The Farm."
Since Dr. Compton passed away in 1948, and there have been only five other individuals to lead the organization: Miss Grace Green, Mr. Archibald H. Cameron, Mr. J. Stewart Humphrey, Mr. Mark Upright, and Mr. Tim Sinatra.
In more recent history Eliada shifted from the orphanage/dormitory setting to a more family oriented residential care facility. Competitive sports, academics, summer camp, a child development center, an internship program from newly graduated college students, and mental health care were all added to Eliada's continuum of care. Eliada opened the first stand alone Psychiatric Residential Treatment Facility (PRTF) facility in North Carolina in 2006 and now serves the most vulnerable young people in the mental health system. And most recently, Eliada launched the Eliada Students Training for Advancement (ESTA) to serve youth aging-out of the Foster Care System.
Please explore the "What We Do" tab to learn all about our current programming.