Our Campus
Take a Tour
For a full tour of Eliada, please contact Tami Ruckman, Eliada's Director of Development truckman@eliada.org or (828) 254-5356 Ext. 306. Tami can show you the length and breadth of Eliada's 320 acre's from the comfort of a golf cart.
Eliada Barns
Eliada has a couple beautiful barns on our campus. Today the Recreation barn houses games, a climbing wall, and space for dance and yoga classes! Originally the dairy barn, this is a fixture on our campus. The horse barn is the home for Eliada's Equine Therapy program. This program provides animal assisted therapeutic activities for high-risk students with behavioral and emotional problems. Our family of animals includes 9 horses, 1 llama, 2 mini-horses, 3 pigs, 2 goats, and many sweet barn cats.
Eliada Farms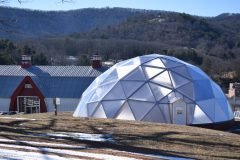 Eliada Farms includes a geodesic grow dome where Eliada staff and youth use hydroponic growing methods to grow lettuce, cucumbers, tomatoes, spinach, herbs, and more! Through Eliada Farms, Eliada is:
Enhancing and strengthening Eliada's cradle to career continuum of care through an emphasis on active, experiential education, and focus on building resiliency factors to achieving long-term outcomes for vulnerable youth.
Increasing the amount of nutritious food served to children and youth on a daily basis.
Strengthen Eliada through sustainability measures that will grow the agency's revenue and brand recognition in Western North Carolina.
To learn more about Eliada Farms and the grow dome, reach out to Frank Taylor, Eliada's Business Development Officer ftaylor@eliada.org or (828) 254-5356 Ext. 380
Eliada Trails
Eliada's campus also boasts hiking trails for children and youth to enjoy. Mount Slippey has wooded trails, one leading to Eliada's historic cemetery. Some children and staff who lived at Eliada when the agency was an orphanage, were laid to rest in this beautiful and peaceful perch on campus. Today, alumni and family visit campus to help maintain the grounds around the cemetery. Youth hike on the trails during summer camp, after school activities, and even during therapy sessions.