Our Campus & Animals
Take a Tour
For a full tour of Eliada, please contact Julie Heinitsh, Eliada's Director of Development or (828) 254-5356 Ext. 308. Julie can show you the length and breadth of Eliada's 320 acre's from the comfort of a golf cart.
Eliada Barns
Eliada has beautiful barns on our campus. Originally the dairy barn, this is a fixture on our campus. The horse barn is the home to 9 horses and 3 ponies, some of whom have been rescued from difficult situations by caring heroes who donated them to Eliada! Llarry the Llama, Johnny Cash and Sunflower (goats), George and Daisy (pigs), and the barn cats are rescued animals as well.
Eliada's Animals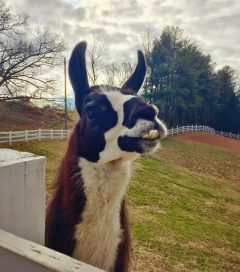 Eliada's Equine Therapy Program provides animal assisted therapeutic activities for high-risk students with behavioral and emotional problems. Many of our animals come to us with their own trauma histories. At Eliada, they peacefully live for the duration of their lives while helping children heal.
Therapeutic Animal Service Cooperative (TASC) activities are designed to build emotional awareness, interpersonal skills, self-confidence, ability to focus, impulse and anger control, assertiveness and empathy. Students participate in weekly groups to practice these skills.
A greater awareness of personal feelings may be achieved through caring for the horses. Eliada's students often form strong relationships with the animals in equine therapy and come to realize the significance of personal connection and responsibility to another living being. Certified Mental Health Clinicians use an Equine Assisted Growth and Learning Association (EAGALA) approach with our Equine Specialist and provide individual, family, and group therapy with the horses.
The equine therapy staff is knowledgeable and extensively trained in EAP (Equine Assisted Psychotherapy), EAGALA (Equine Assisted Learning and Growth Association), group facilitation, team work and clinical issues.
Campus Farm Program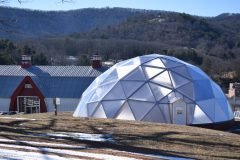 Eliada's Campus Farm Progam includes a geodesic grow dome where Eliada staff and youth use hydroponic growing methods to grow lettuce, cucumbers, tomatoes, spinach, herbs, and more! Through the farm, Eliada is:
Enhancing and strengthening Eliada's cradle to career continuum of care through an emphasis on active, experiential education, and focus on building resiliency factors to achieving long-term outcomes for vulnerable youth.
Increasing the amount of nutritious food served to children and youth on a daily basis.
Strengthening Eliada through sustainability measures that will grow the agency's revenue and brand recognition in Western North Carolina.
To learn more about the Campus Farm Program and the grow dome, reach out to Nora Scheff at or (828) 254-5356 Ext. 303.
Our Grow Dome is provided by Growing Spaces! You can learn more by going to growingspaces.com
Learn more about the Campus Farm and our goal of sustainability
Thank you
Thank you to our partners for their investment in the farm!
Rite Aid Foundation
CarePartners Foundation
Beverly Hanks
Four Seasons Garden Club
Friends of the Earth Garden Club
Appalachian Singlefoot Horse Breed Association
Growing Spaces
And contributions from many kind individuals!
Eliada Trails
Eliada's campus also boasts hiking trails for children and youth to enjoy. Mount Slippey has wooded trails, one leading to Eliada's historic cemetery. Some children and staff who lived at Eliada when the agency was an orphanage, were laid to rest in this beautiful and peaceful perch on campus. Today, alumni and family visit campus to help maintain the grounds around the cemetery. Youth hike on the trails during summer camp, after school activities, and even during therapy sessions.