Changing Lives at Eliada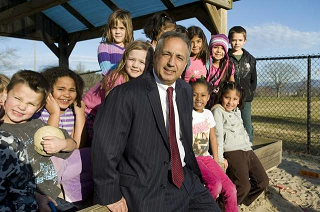 Asheville's Mark Upright is changing the lives of young people as president and CEO of Eliada
Eliada's Mark Upright believes that no child is beyond hope, regardless of the circumstances
Eliada President and CEO Mark Upright has a law degree, an MBA and two bachelor's degrees, all in different fields.
He uses his stellar skill set on a daily basis, flitting from pro bono legal work to advocating for foster children to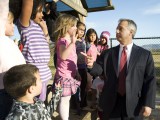 wrangling a high-dollar grant for a new program on the Eliada campus.
"I love learning and would probably still be in school if my wife would let me," said Upright, who will turn 50 in March. "Every day, I use the skills and knowledge gained from my business and law training, and I think these educational experiences have made me a much more effective leader.
But he also takes time to blow bubbles on the playground with the kids in Eliada's after-school program and to pay visits to his favorite campus pet, a llama named Larry.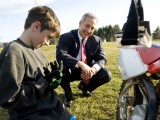 He is smart enough to know that, while degrees are valuable, a lot of letters with dots behind them aren't the only thing.
"Education provides you knowledge, but experience provides you with something much more valuable, and that is wisdom," Upright said. "That is my goal now, to become wiser with each passing day."
There are plenty of opportunities to gain wisdom on the bustling Eliada campus just off Leicester Highway, which was founded 108 years ago by Dr. Lucius B. Compton as a home for women and children, and for decades beyond would be known a place of last resort for orphans.
That role has changed dramatically in recent years, with Eliada now serving some 550-600 children each year with a full continuum of services, among them a five-star child development center, preschool, after-school and summer camp programs, in-home services, residential and day treatment for children and adolescents, foster care and therapeutic foster care, and therapeutic recreational services.
That's a mouthful of words, but they boil down to mean that Upright is in charge of a dizzying array of not only programs, but real people — many of them at-risk children suffering from mental illness and emotional damage often caused by circumstances beyond their control.
Rather than succumbing to weariness doing work that could feel defeating to someone with a different worldview, Upright is constantly stoked at the prospect of the surprises that will come his way each day.
"Our first purpose is to achieve our mission: helping children succeed," he said. "But I think we also have a secondary purpose, and that is to prove that miracles really do happen, and they happen all the time."
So often, he said, the students who come to Eliada "have been discounted by society; they're viewed as damaged goods or lost causes."
"Yet I know from my work here that no child is beyond hope, no matter how adverse the circumstances might be, and what have been their greatest challenges can also be opportunities for creating great character," Upright said.
"When a child discovers the strengths and gifts that they didn't realize they have, suddenly a new path is revealed to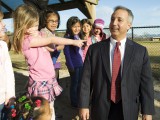 them," he said. "Miracles are those things that are surprising; a welcome event that is not explicable by natural or scientific laws, and is considered to be divine.
"Miracles happen all the time here at Eliada," Upright said. "You just have to be looking for them."
A turning point
Raised in farm country outside Philadelphia, Upright was an athlete from a young age, joining the wrestling team, pole vaulting for the track team and weightlifting — an activity he continues today.
"Every morning beginning at 5:30 a.m., you can find me lifting weights at the Reuter Family YMCA," he said. "I have been lifting since I was 14, and I hope to still be lifting when I'm 80. I try to encourage my own kids as well as the students at Eliada to find a healthy 'habit' and make it a routine."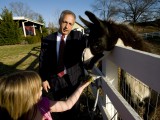 Upright's work with and for children began early, when he took a job after high school graduation working as a YMCA camp counselor.
"It was one of the turning points of my life. I was inspired to see inner-city kids transform from nervous, homesick children to confident young adults who were more independent and mature after their camp experience," he said.
He worked each summer through college at YMCA camp and later was a YMCA ranger hiking most of the Appalachian Trail with a group of teenage summer campers. He remains today a ferocious proponent of summer camp, saying the experience is "one of the most important gifts a parent can give to a child."
Upright cited Michael Eisner, former CEO of the Walt Disney Co., as saying that everything he needed to know to successfully lead Disney, he learned from being a camper and camp counselor.
"I couldn't agree more," Upright said. "The resilience, creativity and ability to work in a team are essential to being a successful adult, and you learn it all at camp."
Positive change
It was at Y camp that Upright discovered the National Youth Project Using Minibikes program, which gives at-risk youths the chance to ride minibikes as they make positive changes in their lives.
When he came to Eliada in 2002, he worked with the staff and Honda America to bring the program to campus, and it has proved to be "an incredible treatment program for Eliada's youth."
Eliada hosted the Southeast Regional NYPUM Rodeo a year ago, and Upright was recently appointed to the national board of directors for the project.
As an international exchange student during his junior year of college, Upright traveled through 15 European countries and was significantly affected by meeting the people of Czechoslovakia, Poland and East Germany.
Even then gathering wisdom day by day, Upright retained and still uses the lessons he learned overseas.
"The Soviet Union was just beginning to go through dramatic political changes, and the students from those countries had endured such adversity and hardships, yet those students were resilient, optimistic and extremely proud of their countries and heritage," he said.
"Then and now that experience reminds me that through great adversity, great individual character is achieved," he said. "Adversity can often be a gift."
Creative initiatives
Through college, Upright worked as a recreational aide at a national children's hospital and was a youth advocate in the juvenile justice system. He later worked as a teacher in an alternative school and a social worker in the Philadelphia foster care system.
Armed with a lone bachelor's degree in psychology and eager to become an administrator, Upright returned to college to earn an accounting degree and went on to earn his MBA and a law degree from Rutgers University.
Before coming to Asheville in 2002, he was a CFO and vice president of administration for two large child welfare agencies in Philadelphia.
When he arrived on Eliada's campus, Upright hit the ground running, again using some of the wisdom he'd garnered along the way.
One of his initiatives is the Residential Interns Seeking Excellence program, based on a model from his law school days when students were required to do pro bono work serving the poor and indigent.
"When I was doing that work, I learned so much from the attorneys I served under — in fact, this was more valuable to me than the academic coursework," Upright said.
Today, Eliada's RISE program allows new college graduates the same kind of experience in the social service sector, working with Eliada for one year, rotating through its various treatment services.
"They receive room, board and a small stipend, in addition to the real-world work experience that, in this economy, is invaluable," Upright said. "Our students benefit from their energy and enthusiasm, and we are able to staff at a higher ratio than we would otherwise be able to achieve."
So far, RISE has had interns from nine countries and 32 universities.
His latest initiative is the Eliada School of Trade Arts, which will open this summer as the state's only post-secondary residential school developed to meet the needs of young men transitioning from long-term foster care to adulthood.
Through vocational and academic training leading to an associate degree, a support network and the experience of transitional living, ESTA will give these young people the tools to become self-sufficient adults and productive members of society, Upright said.
"I am most looking forward to giving these students the chance to discover their potential and seeing the excitement that comes from that," he said. "I hope they come back in five, 10 or 15 years and are wonderful husbands, fathers and citizens of our community — that is when I will know we have been successful."
Supporting community
Upright's work on behalf of youths isn't restricted to the Eliada campus.
He is a member of the board of Smart Start, a former Volunteer of the Year with Junior Achievement, volunteers with Pisgah Legal Services and has taken on a number of child custody cases in which the parents didn't have the financial means to retain an attorney to advocate for their child.
Another organization Upright supports by providing space for training and certification is Paws With a Purpose, a therapy program that sends dogs into schools, hospitals and other settings and has brought "joy" to Eliada's students.
Upright also supports Norman Osteen's Strong and Courageous Wrestling Club, which meets weekly on campus to foster character development through the sport of wrestling.
Asheville River Arts District leader Jolene Mechanic, who lived at Eliada in the late 1960s and '70s, has worked happily with Upright on several projects with Eliada's kids involving filmmaking and arts openings.
"Mark's willingness to open a path of availability makes it very easy to want to do something at Eliada, where there is such a strong need for the kids to be able to artistically express themselves," Mechanic said.
"Statistics prove, again and again, how important exposure to art is, how it offers a positive channel for anger management, how it increases self-confidence and how it teaches kids to make good judgments about qualitative relationships," she said. "Mark apparently has done his homework, because he understands this."
Tim Kelley, president of the Eliada Foundation board and a member of the search committee that hired Upright, agreed.
"Mark cares about the kids, and he's very forward-thinking about opportunities to advance them and help them lead successful lives," Kelley said, citing as an example the new vocational school Upright began envisioning seven years ago.
"We don't want to just serve kids now, but see how we can help them sustain a livelihood after they leave us," he said. "And this new endeavor is one way to look at that."
Cause for pride
Off campus, Upright stays busy with his three sons — Justin, 18, Holden, 13, and Jordan, 12 — and his wife, Donna, a teacher's assistant at Estes Elementary School, whom he calls "my best friend and most trusted adviser."
They spend most weekends at sporting events with the boys, who are involved in travel baseball, travel soccer, wrestling, karate and Boy Scouts. The family enjoys hiking and camping, and visits the Outer Banks once each year.
A fan of Sinatra and big band music from the '40s, Upright confesses to an addiction to the TV shows "Storage Wars" and "American Pickers," but he gets off the couch to keep mentally and physically fit with his daily weightlifting regime.
He carefully ponders a question asking with whom he would most like to share a long, lingering dinner.
"Without a doubt, I would like to have dinner with Jesus," he said. "I have a lot of questions, and I would like to know if I'm hitting the mark."
Others on the list would be Walt Disney, whose company "is in a league of its own in creating the optimal corporate culture," as well as Winston Churchill and Ronald Reagan, "both of whom had an extraordinary ability to communicate and inspire others for greatness."
But at the top of the list, beside Jesus at the dinner table, would be Dr. Compton, Eliada's founder.
"Every day, I wonder what he would think about the direction that Eliada has taken. … He was such a visionary figure who began Eliada with little more than his personal conviction," Upright said.
"I am moved at how much he accomplished with so few resources. I wish I could speak with him and get a real sense of who he was," Upright said. "I want to know what he wanted to accomplish but didn't or what he was most proud of."
Upright can be proud of what he himself has accomplished, if the words of Kourtany T., a current foster child and student at Eliada Academy, are an indication.
"Mr. Upright always asks me how I am doing, and he always talks to me about my future plans and ways to help me get there," Kourtany said. "Mr. Upright asks about what kind of job I want to have and what I want to do in school — I've never seen anybody so busy, walking around and looking for ways that we can be better."
Kourtany said when she first met Upright, "I thought he was really different than he turned out to be. I got to know him and learned that he really has an easygoing spirit, and he is so friendly.
"When I grow up, I want to come back to Eliada and tell Mr. Upright what I have been doing," she said. "I think he will be really proud of me."