Eliada Breaks Ground on New Tennis Facility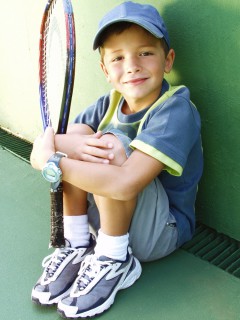 Thanks to support from a generous donor and a grant from the United States Tennis Association (USTA), Eliada will now be able to add tennis to a long list of recreational programming available to the agency's students. News of the USTA grant came just this week, and with it came completion of a mini-campaign that raised nearly $80,000 to construct the new tennis facility.
With the funding, Eliada will add two full-size tennis courts with the functionality to allow younger children to play on a smaller court within the larger perimeter. Eliada used the technical expertise of the USTA in planning the facility's construction, which is expected to take approximately six weeks. From handicap accessibility to storage of rackets and other equipment, every consideration for the new courts has been made.
"We have always believed in the power of athletics to influence the life of a child," said Mark Upright, Eliada's President and CEO. "In the last several years, we've geared most of our athletics programming to individual sports like golf, running, and tennis. Our hope is that during their time at Eliada, students will be introduced to a sport that they can play throughout their entire lives."
Retired orthopedic surgeon and former Eliada board member Dr. James Weilbaecher agrees. He provided a $50,000 lead gift for the new tennis courts, and was the philanthropic force behind the creation of Eliada's USGA-supported driving range and putting green. Together with his wife Thea, Dr. Weilbaecher is well-known for tennis in the Asheville area. He won numerous tournaments at the Biltmore Forest Country Club, as did his children.
"Dr. Weilbaecher has always recognized that this is about more than just sports. It's about providing our students with new experiences and opportunities to develop confidence. His vision for Eliada's students has transformed our campus in such a positive way," said Mr. Upright.
Eliada's tennis program will be an exciting new addition to the agency's continuum of therapeutic recreation initiatives. Eliada students can take part in the agency's Honda-sponsored National Youth Project Using Minibikes (NYPUM) program. They can learn how to scale and belay on the agency's climbing wall, or work out in the newly renovated state-of-the-art fitness center. They can practice their swing on the driving range, or take a dip in the pool. Other student favorites include the 5K team, wrestling program, campus labyrinth, and therapeutic animal program that allows students to interact with horses, goats, a llama, a pig, a miniature horse, and a donkey.
"When I talk about our recreation programs in the community, people are amazed," said Mr. Upright. "They often half-jokingly ask me how they can sign their own children up to come to Eliada! My goal is to create a rich experience for our students that rivals that of even a highly advantaged child. Every project like this that we see to fruition, we are one step closer to this goal."
Learn more about Eliada at www.eliada.org.
About Eliada
Eliada is a 108 year old non-profit agency serving North Carolina's children and families. Founded in 1903 by Dr. Lucius B. Compton as a home for women and children, Eliada's full service continuum includes COA-accredited Child Development Services (Pre School, After School, Summer Camp, NC Pre-K); Residential and Day Treatment for children and adolescents; Foster Care and Therapeutic Foster Care; and Therapeutic Recreation programming. In addition, Eliada recently launched a transitional living and vocational education program for long-term foster youth. Learn more about Eliada's history and services by visiting Eliada.org. The agency enters its second century with pride, committed to the fulfillment of its mission statement: Helping Children Succeed.