Eliada's Campus Transforms with New Geodesic Grow Dome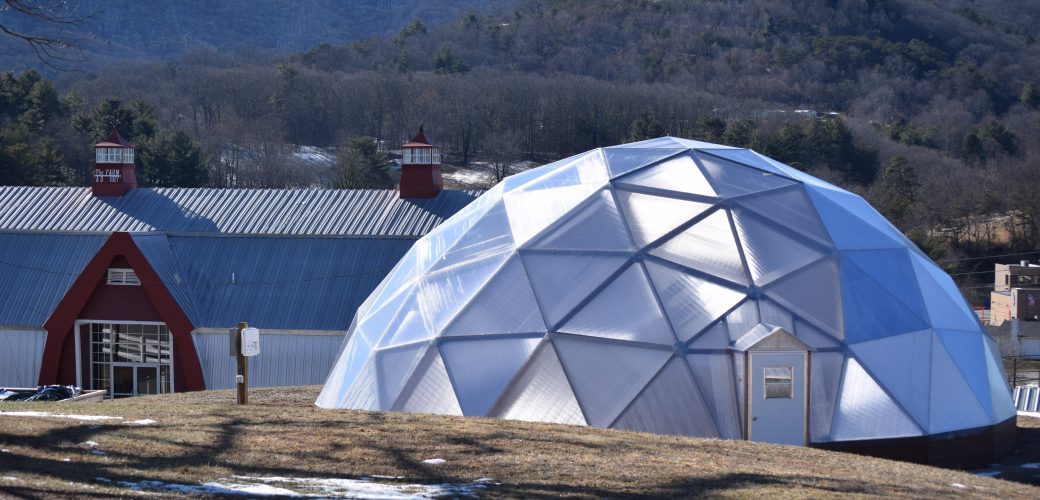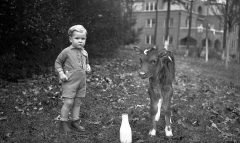 For over 100 years Eliada has served children in Western North Carolina on the same piece of land. When the organization was a self-sustaining orphanage, farming ensured there was enough food on the table. Through a relationship with the Biltmore Dairy operation, Eliada sold milk, and earned money to support the numerous needs of the children in its care.
In a time when public funding for mental health care and youth services is shrinking, yet community needs are increasing, Eliada is looking to return to its roots and rely on its most prized asset-320 acres nestled in West Asheville.
Over the last year, Eliada has not-so-secretly been engaging in a pilot hydroponics production program in the basement of the Compton Cottage. This was the home of the agency's founder, Dr. Lucius Compton, and today houses Eliada's Foster Care team. In the basement, Eliada was able to successfully grow lettuce and herbs using modern farming methods.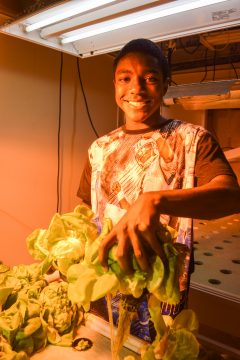 Eliada's Chief Business Development Officer, who has been leading pilot production said, "It's been fun to take youth up to the Compton House where we have the pilot production facility. I have them help me measure the temperature of the water, the pH level, and bag up lettuce for staff. I can see how highly engaged they are!"
After a successful year of production on a small scale, the agency has erected a geodesic grow dome next to its historic barn to increase its hydroponics production.
With support from The Community Foundation of Western North Carolina (CFWNC) through a People in Need Grant, Eliada will hire a Farm Manager that will bring the dome and all future farming projects to life. "The Healthy Lifestyles Project provides children at Eliada with fresh healthy produce and opportunities for learning new skills, while building an additional income stream," said Elizabeth Brazas, CFWNC President. "We are pleased to support a manager to supervise the farming projects as well as the restoration of Eliada's orchard."
The dome will supply Eliada's commercial kitchen with 100% of the lettuce, spinach, tomatoes, and cucumbers served to children and youth 365 days/year. This will increase the amount of fresh, local produce served.
The benefits of hydroponics lend themselves to this initiative. For example, hydroponics supports a year round growing calendar in which lighting and temperature can be carefully controlled. Hydroponic farming also uses up to 10% less water than traditional soil farming, and uses only 10% of the space as a standard garden growing the same amount of yield, allowing Eliada to preserve much of its acreage. It also decreases the growing time. In the initial pilot project, it took approximately 55 days to yield a crop of lettuce. Overall, Eliada will be reducing its carbon footprint by growing local.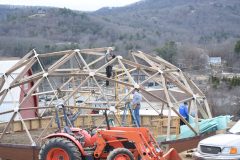 The new Farm Manager will also lead hands-on educational activities with Eliada's youth. The dome will serve as an active learning space during the school day for science and wellness lessons. Younger children will have opportunities to do taste tests and build self-efficacy around nutritious food. The dome will provide internship and apprenticeship opportunities for older youth in Eliada's workforce development program.
All youth at Eliada will have access to the dome. With 90% of youth in Eliada's treatment services experiencing some form of abuse or neglect, and 83% of preschoolers at Eliada receiving free and reduced lunch, the agency is working towards providing all children and youth in care experiences that build up resiliency protective factors. The development of self-regulation skills, memory and flexibility skills, and a sense of hope, all work to build resiliency and improve long-term outcomes.
There are plans in the works to expand Eliada's farming practices beyond the geodesic walls of the grow dome. By scaling up farming, Eliada intends for the venture to quickly become a revenue generating opportunity for the agency-selling to local vendors and direct to consumer.
Investment from community partners such as The Community Foundation not only ensures healthy food and enriching programming for kids, it also enables Eliada to be good stewards of their land and diversify revenue streams. This ensures that in another 100 years, Eliada will still be serving the most vulnerable children in our community on the same piece of land.