Virtual Learning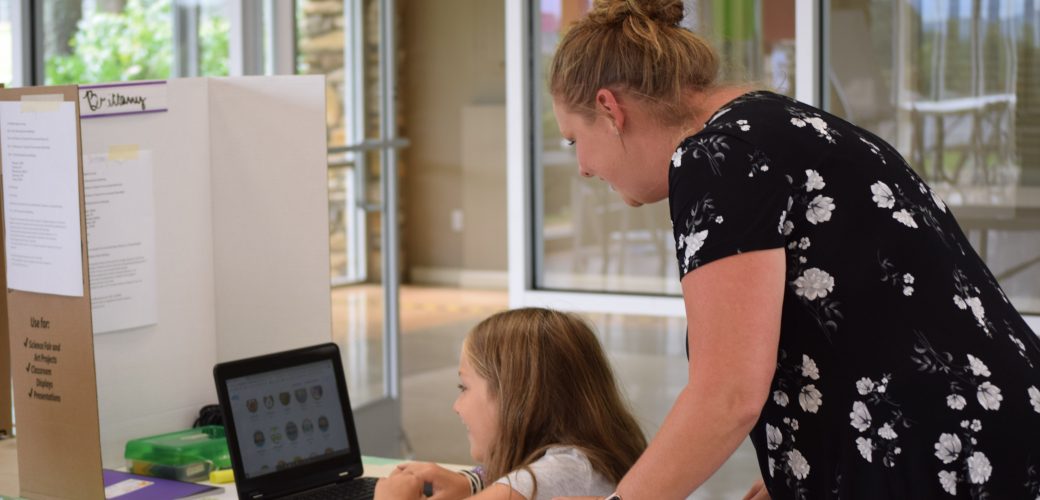 As the summer wound down, and we learned that Asheville City and Buncombe County youth would start the school year off with virtual learning, we knew we had to help families as best we could.
Remember the building where we sell Corn Maze merchandise and tickets? That building now has a license to provide school age services. Every day, 20 students, 2nd-6th grade are coming to this building to do their virtual learning. An additional 10 students, kindergarten-1st grade, are using a classroom in another building on our campus for their virtual learning.
All the students coming daily for virtual learning have a connection to Eliada. They are youth who have been coming to us for after school and summer camp programs, or their siblings are in our child care center. By coming to Eliada for virtual learning, their parents, who need to work outside the home to support their families, are able to work and know that their kids are getting their schooling in a safe and healthy environment.
There are challenges we've faced as this program has gotten off the ground. Many students are in different schools, different grades, and they have very different schedules. Eliada staff has to keep everyone's schedules straight, ensuring each student is attending their daily classes and keeping up with their work.
Since some students finish the school day before others, we've also created some independent play areas in the building, including a Lego center pictured above. Students are able to quietly play while others focus on their zoom classes.
There have been some funny moments too. Eliada staff are popping up in the background of classes. As the director of this program Tammy Scott puts it, "The kids will say 'Ms. Tammy get out of my class!' " Tammy was circulating through the room ensuring everyone was logged into their classes, but that meant she was on camera and making special appearances on zoom.
After the school day ends, students are able to stay at Eliada in our after school program, giving them time to get outside, play, and socialize. Overall, it's been great to see how resilient our students are.
And we've certainly been learning a new way of doing math!