Eliada Housing Services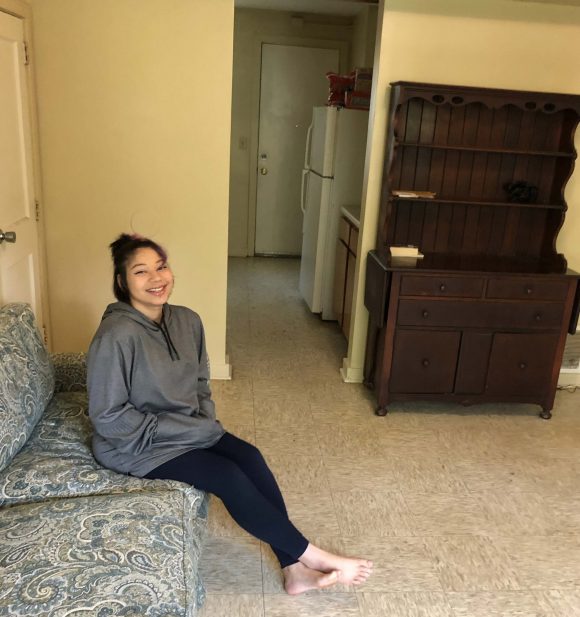 48% of all young adults who age out of foster care become homeless within the first 3 years of aging out.
Without your help these vulnerable young adults are destined to become part of the chronically homeless population within our community. Each year, our Workforce Development program serves around 60 youth, and annually, an average of 82% of them were homeless or at imminent risk of becoming homeless. Many think public housing could be a solution, but young adults may wait up to a year and half to receive placement. Outside of public housing, many find it very difficult to compete for a rental without credit or rental history.
Our Housing Services
Partnering with the City of Asheville and Buncombe County, we have developed our new housing services to serve young adults aged 18 to 25 who are homeless or at risk of becoming homeless. Our case managers help young adults search for housing, pay application fees and security deposit, assist with rental payments, paying rental arrears, furnishing apartments, setting up utilities, moving their things in, and developing the skills to maintain their home and pay their bills. With this new endeavor, we strive to house 33 families and help keep 10 more in the homes they have by avoiding eviction.
How to Support this Project
If you want to be a part of the solution for the community's housing problem, there are several ways to get involved!
Partner with us! We are looking to create partnerships with local landlords, whether you have a room for rent or a whole apartment complex. Consider housing one of our families and give back to those in need.
Donate! If you don't have something to rent, there are still other ways to get involved. It's our goal to start each family in a furnished home. Did you know food stamps can't be used for toilet paper? Donations of essentials like toilet paper and cleaning supplies and gently used furniture, pots, pans or other household items are welcomed. Contact our program staff at to set a time for donation.
Volunteer! If you want to donate your time, complete our volunteer application and designate the way in which you would like to volunteer. Opportunities include Move-In Team Member, helping young adults prep their home and move their things in on the big day and Mentor, empowering young adults as they adjust to a new renter. This project can only be a success with the support of community members, and we thank you for the ways in which you have partnered with us.
In need of housing assistance?
If you are not in the age range of 18 to 25 and need assistance, please contact 2-1-1.