Athletics & Junior Golf
Athletics
Eliada believes athletics are an important way for young people to learn team building, cooperation, and the importance of goal achievement. Through participation in the Athletics program, students are able to learn valuable lessons of character that come with playing competitive team sports:  hard work, determination, courage, teamwork, perseverance and sportsmanship. They are able to improve upon important social skills such as making friendships and establishing healthy lifestyle habits.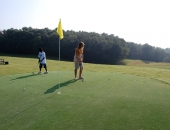 Students are able to learn and establish healthy physical fitness habits and routines. Students are able to wear a school uniform, some for the first time. They are able to feel a sense of pride from beating their own best time in a 5k race, learning a backhand shot in tennis, scoring a soccer goal or getting a base hit in a baseball or softball game. An emphasis on character development is also a strong focus of the athletic department. Lessons on character traits are taught hand in hand with the fundamentals of the sport. For instance, honesty is discussed when teaching golfers to keep score; sportsmanship lessons are focused on throughout practice sessions and competitions; perseverance is learned through working hard each week to improve upon team achievement.
UNCA and Aston Park support our students through clinics and competition in Basketball, Tennis, Baseball, Softball, Soccer, Volleyball, and Cross-Country.
Junior Golf
Our Junior Golf program is supported by the USGA and is a great experience for kids of all ages.  In May 2008, Eliada opened one of the finest driving ranges in Western North Carolina.  Situated on Eliada's historic campus, the practice facility offers beautiful vistas, an elevated Bermuda-grass tee box, artificial-turf pads for use of the range in more inclement weather, 6 target greens ranging in distances from 50 yards to 300 yards and a practice putting green.
Students learn the fundamentals of the game on our driving range as they progress through a basic skills curriculum.  Field trips are offered to local courses.  Our students are having a great time learning the game while also learning important skills such as focus, patience, etiquette and sportsmanship.