Paws On A Mission
Paws On A Mission h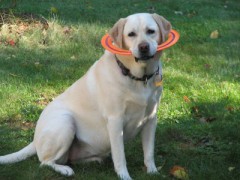 as partnered with Eliada since 2007 to provide pet therapy visits to students in residential cottages and the Day Treatment program.  During Paws visits, volunteer pet therapy teams help students learn character development skills supported by Eliada's curriculum, such as Respect and Responsibility, using the therapy dogs and their behaviors as an educational tool.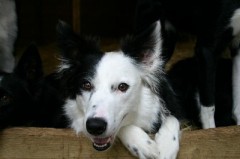 Paws On A Mission is part of the Integrative Healthcare Department at Mission Hospital, and currently consists of over 100 volunteers and 90 therapy dogs.  Paws volunteer pet therapy teams visit to spread smiles, comfort and love to hospital patients of all ages, work with children and youth in schools and community agencies to help them reach their full potential, and lend a helping paw to anyone experiencing loneliness, isolatio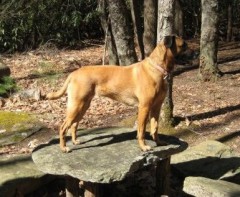 n or other emotional issues in a variety of settings.
Paws On A Mission volunteer pet therapy teams are registered with Therapy Dogs, Inc. (TDInc) or Pet Partners, and have met all Mission Hospital volunteer requirements.
To learn more about Paws On A Mission visit www.missionhospitals.org/pet-therapy or call (828) 213-0131.
Paws On A Mission at Eliada
The Right Thing
A pet therapy team was visiting in a residential cottage one morning.  The dog was excited to see the children, and when they gathered in a large circle to see her she wagged her tail rapidly, overjoyed to receive their affection.   She calmly lay down on the carpeted floor, her soft eyes inviting the students to come closer.  They gently examined her velvety ears and reached out to rub her warm belly.  The students asked many questions—"How old is she?" "What does she like to eat?"  "Can she shake hands?"
The owners, or handlers of the dog, responded enthusiastically, answering the students questions one at a time and telling the students about the dog and their experiences together.  The owners had adopted the dog from a shelter, and before coming to live with them she had been neglected and untrained.  The dog's owners shared how taking care of a pet is a responsibility and why teaching a dog proper behavior is just as important as feeding, grooming, and exercise.  Asking the dog to sit and lie down, the students learned how to reward the dog through food treats and lots of praise and petting.  The dog basked in the children's attention, prancing as they put her through her paces.  Beaming brightly when the dog, head cocked to one side looked into their eyes and "smiled"—"She knows what I'm saying!  She really likes me!"   
When it was time for the owners and their dog to leave the cottage the students said goodbye one by one.  A few students calmly hugged her, and some gave her a final belly rub.  One student asked the owners to please give the dog more treats after they left, to let the dog know how well she did. The owners responded kindly to the student and thanked him for his thoughtfulness.  They explained once their dog learns something new or goes on a visit she does not need a treat every time, and for her, "the experience becomes a reward because she likes to do it and she enjoys helping others."  The student looked curiously at the dog, and then said confidently, smiling widely as he petted her one last time "She's just like us!  We don't do things because we need a reward all the time–—we do it because it's the right thing to do!"