Spiritual Development
Eliada is an ecumenical community that recognizes and embraces the diversity of denominations present within our society.  We recognize the uniqueness of students within our community and strive to offer a variety of spiritual development opportunities. By offering a shelter from the storm, Eliada is able to introduce a sense of peace that enables faith to grow. Eliada strives to create and foster an environment that encourages and allows students to explore their own spiritual path and development.  Eliada will always demonstrate respect for the students' and families' religious beliefs and practices.  We provide opportunities for students to  develop their own personal faith; including but not limited to morning prayer circles, weekly bible study groups, and transportation to a local church each weekend.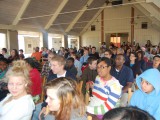 Eliada ensures Faith-Based activities are available to students on a strictly volunteer basis. We facilitate group activities and leave one-on-one spiritual guidance to an appropriate member of the student's home church/religious organization.
The core of our program focuses on lessons with uplifting messages, such as faith, hope and love, rather than fear-based lessons, such as damnation, that can be difficult for students in treatment to process.
Eliada greatly appreciates local volunteers who are able to lead spiritual development and youth group activities!