TASC (Therapeutic Animal Service Cooperative)
Eliada's Therapeutic Animal Program provides animal assisted therapeutic activities for high-risk students with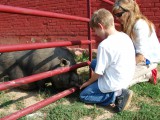 behavioral and emotional problems as well as beginner horsemanship and riding lessons to children and students of all ages, backgrounds and ability level. Our current TASC family includes 6 horses, 1 goat, 1 donkey, 1 llama, 1 mini-horse, 1 pig and many sweet barn cats. TASC activities are designed to build emotional awareness, interpersonal skills, self-confidence, ability to focus, impulse and anger control, assertiveness and empathy. TASC is an interactive, educational, cognitive-behavioral approach custom-tailored to offer participants and their family's success based therapeutic activities.
Students learn to provide the daily care for the horses and progress to beginner English and Western riding lessons. The TASC program utilizes strengths-based goal setting and evaluation for each activity.  The activities promote the development of self-confidence and self-esteem through working with large, strong animals.  They help increase concentration and attention span through managing and controlling the horses.  Significant focus is placed on respect, appropriate communication and assertiveness.  A greater awareness of personal feelings may be achieved through caring for and riding the horses.
The TASC staff is knowledgeable and extensively trained in EAP (Equine Assisted Psychotherapy), EAGALA (Equine Assisted Learning and Growth Organization), group facilitation, team work and clinical issues.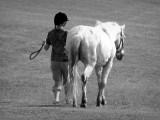 Eliada's TASC program is specifically designed to build empathy, self-confidence and smart decision making skills. While students learn to care for the animals, some of whom are older or may have come to us from abuse/neglect situations, their sense of empathy and responsibility is heightened. Eliada's students often form strong relationships with the animals in TASC and come to realize the significance of personal connection and responsibility to another living being. Therapists are often able to use the child's relationship with the animals as a metaphor for the relationship building that is occurring in their own lives with family members, foster families and peers. This therapeutic approach can be a less intimidating and more encouraging way for therapists to bring up and discuss deep seeded issues from the child's own history of abuse or neglect. TASC also builds a sense of personal empowerment in its participants. A sense of personal strength and confidence is often built through learning to lead, groom and ride a two-thousand pound animal. Many of Eliada's students are afraid of this process at first but learn to overcome those fears by progressing through horsemanship and riding lessons.