Clinical Services
The Clinical Department at Eliada offers Outpatient services to children and families in our network as well as the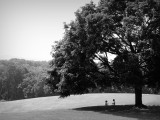 community.  Our staff is comprised of licensed clinicians who are highly skilled in serving the acute mental health population and come from a wide array of clinical backgrounds. Our clinicians carefully structure each individual treatment plan employing evidenced based models by delivering them through modalities such as individual, family and group therapy. We also use experiential therapies such as expressive arts or equine assisted psychotherapy in addition to offering multi-family workshops and parenting skills training.
Our team is committed to providing the highest quality of care by utilizing evidenced based treatments. Our treatment approaches include Cognitive Behavioral Therapy (CBT), Dialectical Behavior Therapy (DBT), Motivational Interviewing, Therapeutic Crisis Intervention (TCI), Trauma-focused Cognitive Behavior Therapy (TF-CBT).
The primary focus of our therapy services is to promote, restore, and enhance the client's well-being within their social environment, by recognizing and utilizing each client's unique differences, strengths, as well as cultural and ethnic diversity.
We recognize that human relationships are important vehicles to change and we engage with our clients as partners in this process, respecting their right to self determination and striving to maintain their sense of dignity. We believe that our clients have the capacity to address their own needs and seek to strengthen relationships within their environments in order to access their inherent capabilities.
Along with providing weekly therapeutic services to our clients, our clinical staff provides oversight to all of the treatment programs in the form of weekly clinical supervision as well as milieu observation.  We provide 24 hour on-call crisis management services and participate in case review and treatment planning through our Multi-DisciplinaryTeam meeting which includes the Medical Director, Nursing Director, Clinical Supervisor, Program Directors, and Case Manager.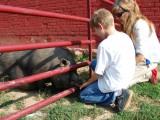 The Clinical Department Team also participates in their own individual, peer and group supervision, as well as attending on-going training in order to ensure that they are providing the highest quality of services in the field of mental health.
Members of our team
Georgia Defrancia, LCSW, a Colorado native, she has been with Eliada and living in Western North Carolina for 8 years.  She has over 17 years of experience in the mental health field with a specific focus on children, adolescents and families.  Georgia incorporates a myriad of modalities in her work including CBT, Trauma Focused CBT and, in particular, Dialectical Behavior Therapy.  She truly believes that her clients have the wisdom and skills within them to overcome their struggles.  In addition, Georgia is also passionate about equine assisted psychotherapy and uses this and other experiential interventions in her work with children and families.
Anne Garren, LCSW, Works individually and in groups with students aged seven to 17. Her goal is individualized, compassionate, effective treatment, which means her approach has to be eclectic because our students have varying backgrounds, needs, and interests. Anne incorporates psychodynamic, developmental, and family systems approaches, combined with DBT and cognitive-behavioral skills. She has traveled cross-country by car twice and lived for several years in Massachusetts, but her formative years were spent in North Carolina and she considers herself a Southern girl who loves living in Western North Carolina.
Katie Hornowski, LCSW,  has long been passionate about working with kids and adolescents to bring forth their inner resources and gifts to aid in their healing process.  In addition to her Masters of Social Work from Smith College, she holds a Masters in Applied Healing Arts though the Tai Sophia Institute.  Her style of therapy is eclectic, bringing together experiential therapy, CBT, DBT, motivational interviewing, narrative therapy, brief solution based individual and family therapy, and psychodynamic theory to create a therapeutic environment best fitted for each unique child and their family.  Katie is also committed to cultural competency, continually working to not only identify her own biases, but also to better the Agency in being as therapeutic as possible to all populations and backgrounds.
Grace Kimburi, MSW, Holds a Master's Degree in Social Work from Andrews University, Michigan and a Bachelor Degree in Nutrition from Solusi University, Zimbabwe. She is a native of Kenya, an East-African nation and has had the opportunity to be involved in a range of diverse cultures and people from many parts of the world. Grace has significant experience working with children, adolescents and families in both inpatient and outpatient settings. Grace believes serving and providing treatment to client(s), their families and/or guardians within their environment allows the field to penetrate into the specific needs of this population. Using the Person-In-Environment concept allows teaching and emphasizing that all humans are a 'part of a whole' and the environments in which we live, work, go to school, worship and socialize is what makes us who we truly are.
Sara Tiner Taylor, LPC, holds a Bachelors degree in Music Therapy from Appalachian State University and a Masters in Education in Mental Health Counseling from Boston College. She is a Licensed Professional Counselor with experience working with children and families in both residential, outpatient, and in-home settings, particularly teenagers with a trauma history. Sara's goal in her work with children and their families is to provide a nurturing environment where the individual and their families' can work to achieve their potential by understanding their past and growing to their future. Sara utilizes a strong therapeutic relationship combined with Cognitive Behavioral Therapy, Trauma Focused Cognitive Behavioral Therapy, Parent Child Interaction Training, and expressive arts to help her clients achieve their treatment goals.