Equine Therapy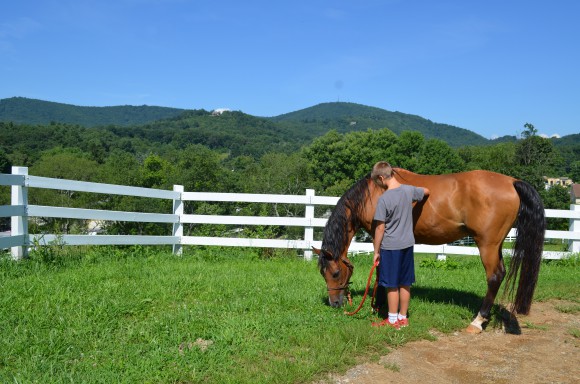 Eliada's Equine Therapy Program provides animal assisted therapeutic activities for high-risk students with behavioral and emotional problems. Our family of animals includes 9 horses, 1 llama, 2 mini-horses, 3 pigs, 2 goats, and many sweet barn cats.
Therapeutic Animal Service Cooperative (TASC) activities are designed to build emotional awareness, interpersonal skills, self-confidence, ability to focus, impulse and anger control, assertiveness and empathy. Students participate in weekly groups to practice these skills.
Significant focus is placed on respect, appropriate communication and assertiveness. A greater awareness of personal feelings may be achieved through caring for the horses. While students learn to care for the animals, some of whom are older or may have come to us from abuse/neglect situations, their sense of empathy and responsibility is heightened.
Eliada's students often form strong relationships with the animals in equine therapy and come to realize the significance of personal connection and responsibility to another living being. Certified Mental Health Clinicians use an Equine Assisted Growth and Learning Association (EAGALA) approach with our Equine Specialist and provide individual, family, and group therapy with the horses. They are often able to use the child's relationship with the animals as a metaphor for the relationship building that is occurring in their own lives with family members, foster families and peers.
The equine therapy staff is knowledgeable and extensively trained in EAP (Equine Assisted Psychotherapy), EAGALA (Equine Assisted Learning and Growth Association), group facilitation, team work and clinical issues.