Alexa achieves her goals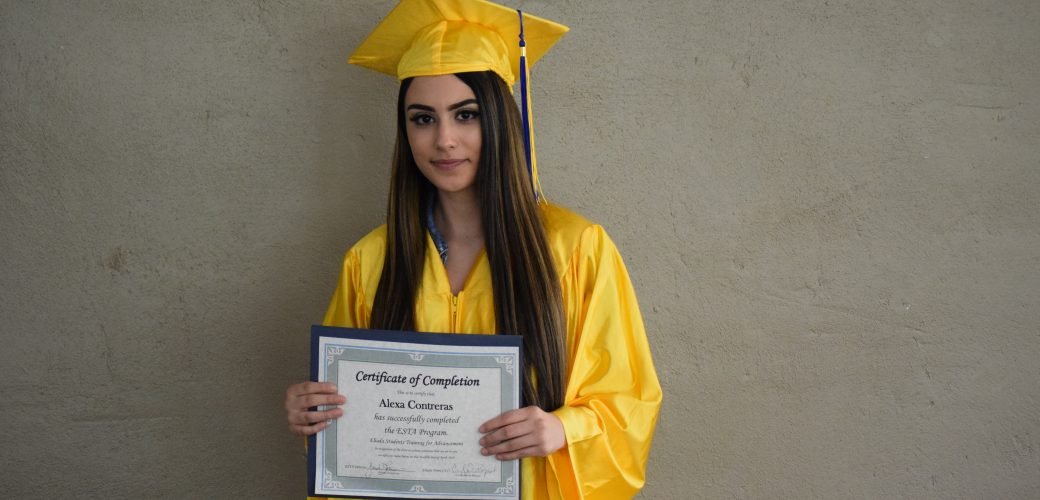 Alexa is a good friend. She's trustworthy, a good listener, and a good observer. Both she and her son Isaiah are shy. Isaiah is also funny. He likes to do things just to make you laugh and smile. This past month in April, Isaiah was proud of his mom who graduated from Eliada's ESTA program (Eliada Students Training for Advancement)!
Alexa first heard about the program through the Nurse Family Partnership. Her nurse aid would come to her home and check in on her and her son Isaiah. While checking on Isaiah's development and Alexa's health, they'd talk about Alexa's life and personal goals. Her nurse aid eventually referred her to ESTA.
When Alexa entered the ESTA program she had a lot of goals:
Find child care for Isaiah
Find financial aid for college
Explore college programs and decide on an educational path
Look for new housing
Find employment
Now that she is graduating from ESTA, she's worked on each of these goals. She's on multiple wait lists for child care. She's filled out her financial aid forms. She's discovered that she wants to be an esthetician or do something in the medical field, and will be registering at AB-Tech in the fall. She's also got her name on wait lists for a few apartments and has a job! The ESTA program Director, Sarah, says, "Alexa is a very hard-working individual. She's always on time or early and has great communication skills."
Alexa says one of the personal goals she's achieved is getting out of her house more. She says she's a shy person and had some anxiety leaving her home. Through ESTA she's gotten to meet new people, and had good experiences meeting new people. Everyone in her ESTA class has gotten close and Alexa says they plan to all stay in touch.
Alexa says her ESTA staff Sarah and Yvonne have been so helpful. She says you can tell that they care, they communicate well with students, and they always give you time and space to talk about issues you are going through. Overall, Alexa expresses that "you don't feel lonely in ESTA. It's a great opportunity for anyone who doesn't know what they are going for in life, and if they are facing challenges at home."
Congratulations Alexa on graduating from ESTA and working so hard to achieve your goals!