Alexis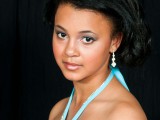 At Eliada, we believe in new beginnings. Alexis came here in November of last year looking for just that. She wanted to change her past behaviors in regards to truancy, substance abuse, running away, and poor relationships with her family. She talked to her treatment team about wanting to express and deal with her emotions appropriately, especially anger. She felt that negative emotions were keeping her from making good decisions and creating the life she wanted. Her family reached out to Eliada for help.
From day one, Alexis showed a lot of determination and worked hard to reach her goals. She especially responded to a therapy known as Dialectical Behavioral Therapy (DBT), which focuses on acceptance, mindfulness, and learning to cope with stress. Using her DBT skills, Alexis rose to become a leader in Reynolds Cottage. She even set a record for moving through Eliada's motivational system faster than any other female student in the history of the cottage.
Alexis was highly focused on her family and proving to them that she could make positive changes. Her family lived far away, so she didn't get to see them all the time. She communicated with them regularly and earned the privilege of going home on therapeutic leave. While at home, Alexis drew upon her newfound strength to combat peer pressure and other stresses.
During her time at Eliada, Alexis taught her peers about some of her favorite hobbies, dance and cheerleading. She also participated in the National Youth Project Using Minibikes (NYPUM) program and earned "junior leader" status, meaning she could be a part of events both on and off campus. Her counselors and friends at Eliada loved her positive presence in the cottage and her natural leadership tendencies.
Her work ethic and overall progress surpassed all expectations. Alexis graduated much sooner than was originally planned, and was able to go home with her family and reenter public school. She hopes one day to go to college and pursue a law degree or a career as a marine biologist.
Congratulations, Alexis! We are all so proud of you.
Thank you for reading Eliada's April Success Story. Look for exciting changes coming to our Success Stories series beginning next month!