Allden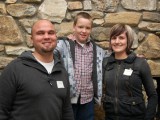 At Eliada, foster parents are our heroes. Justin and Lori Sweeney are a perfect example. They became foster parents to Allden at a critical point in his life. Allden's situation had become so desperate that his care team was considering hospitalization. He couldn't control himself, had strained relationships with his family, and had extreme difficulty in hearing the word no.
That's all changed now. At times, foster parenting was a struggle, but eventually patience paid off. Now when he hears the word no, Allden accepts it and deals with it like a normal kid. He's built back a relationship with some of his family, and now has a plan set in place to move back in with them.
Justin and Lori's home was a perfect fit for Allden, who bonded with Justin over a kind of "free style running" called parkour. Justin explained to Allden that parkour is about moving through the environment in a creative and innovative way. Allden loves to go downtown with Justin and practice parkour.
Recently, Allden went to the lake with Justin. They parked miles away and hiked through the trails to get to the lakeshore. They spent six hours there before it got late and they had to hike back. Justin pushed Allden to jog back with him.  Allden was resistant at first but after they were back at the car he was happy that someone had pushed him to run.  Allden is very good now at accepting motivation.
This experience is a perfect analogy of the time Justin has gotten to spend with Allden. Allden initially doesn't want to make a change in his life, but in hindsight he's always happy that someone was there to push him.  He's able to gain some perspective; he can reflect on a change in his life and can fully comprehend it.  He understands himself a lot better now.
Congratulations, Allden! We are all so proud of you.