Aviyon succeeds!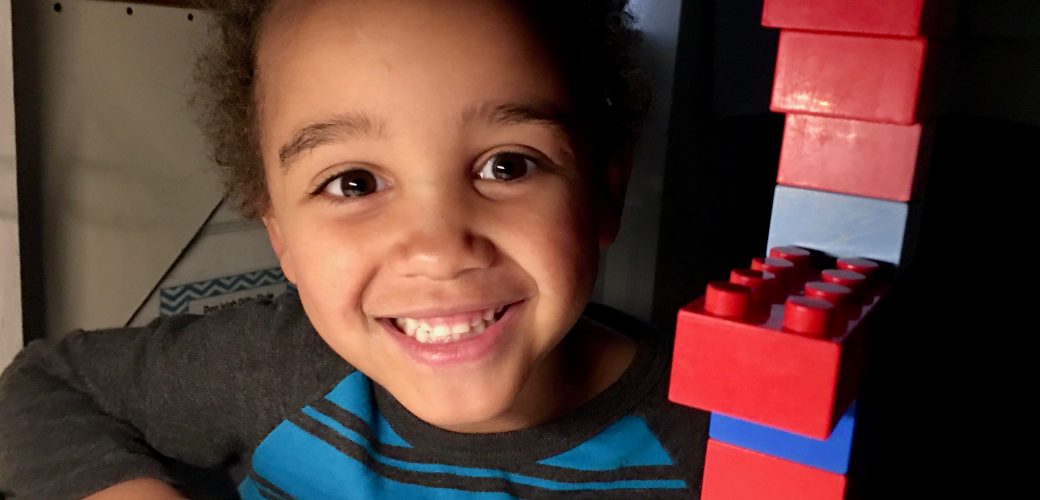 It wasn't that long ago that Aviyon had to get picked up early due to his outbursts. He would try to get attention through negative behaviors. In November, he switched classrooms and was able to reset his experience at Eliada.
His teacher in his new class quickly picked up on the things he loves and encouraged him in those activities. One of those interests is art. Aviyon uses art as a way to express himself, build confidence, and cultivate friendships. One day he sat at the easel and started painting big whimsical strokes. He said his painting was about his time at Chucky Cheese with this family!
One of his favorite art projects was a collage of the first letter of his name. He found a feather and incorporated it into his piece. He believed he found a magic feather and told everyone in class. When his class went for a walk around campus and he saw the chickens and said, "Wow that must have been where my magic feather came from!" When he creates his beautiful art he always thinks about his dad and wants to give everything he makes to him!
The theme of family comes up a lot with Aviyon. He loves his dad and talks about him all the time. In the dramatic play area of the classroom he plays with the wooden doll house and finds the African American dolls to interact with. He shows off the dolls and says, "This looks just like my dad." He recently made festive holiday trees and decided they were a "family of trees."
While Aviyon has made incredible strides, he still has hard moments. If he's upset he'll use negative self-talk and say things like "I'm stupid, nobody loves me." His teachers reassure him that he's very smart and that everyone in class loves him. They help reinforce his positive choices and acknowledge the efforts he makes.
Aviyon is lively and his teachers are also working with him on positive ways to direct his energy. He likes doing "wheelbarrows" where he puts his hands on the ground as he walks with his arms and his teacher holds his feet. This allows him to breathe deeper into the moment. His class integrates many breathing techniques, yoga poses, chanting and creative movement into their day, and they reinforce lessons on family, kindness and love through storytelling.
Aviyon is succeeding in so many ways. He is starting to build new friendships, connections and nurturing ways to support himself. His attitude is brighter, his heart fuller and his generosity is endless. He recently gave one of his Lego creations to a friend and has given his teacher sweet drawings. His class has been talking about the power of gifts this season including the gifts of encouragement, listening, friendship, and. Aviyon has the gift of giving and loves to give all friends, teachers and his dad so much art and joy.
We are so proud of Aviyon and love seeing him grow, use art as a tool, and share with his dad. Congrats Aviyon!
Thank you for reading these success stories in 2020. Like Aviyon, you are so generous, and you give us the gifts of encouragement, listening, and friendship. We hope you have a Happy New Year!