Jeremiah helps everyone at Eliada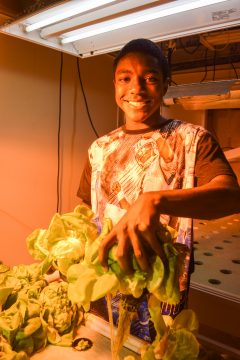 Jeremiah started coming to Eliada's summer camp program when he was 5 years old! And after this summer he'll be starting high school.
He has maintained friendships over the years and he looks forward to reuniting with his camp friends every summer.
This is the first summer Jeremiah has been a Junior Leader. This means that instead of being a camper, he has more responsibilities assisting Camp Counselors . As a Junior Leader, he's assigned to Ms. Samantha's room, and he is a great role model for the other campers he works with every day.
Eliada's Camp Director, Bre Smith, describes him as someone who "does the right thing even when no one is watching." She sees that he is a great leader, and is attuned to the needs of the campers in his class. He is able to console them when they are upset and lift their spirits. He is a great friend to the other Junior Leaders and extremely helpful to staff.
This summer Jeremiah is also taking the opportunity as Junior Leader to learn about other aspects of work at Eliada. He has been taking time out of his day to visit Ms. Tonia Reed in Child Development. He has taken a large interest in helping out in the baby room and thinks the babies are very sweet.
He has also been chosen by Mr. Frank Taylor to help out in the Hydroponic Research Station. As we move towards growing our own food, we are experimenting with hydroponics growing methods. Jeremiah helps Frank plant, monitor the temperature and pH balance, and harvest lettuce.
After spending some time with Jeremiah Frank says that, "he has a quiet confidence in him. I got this feeling from him that he is going to do well in life. I can't quite put my finger on it, but when you spend time with Jeremiah, you get this feeling about his desire to be successful." Frank also said Jeremiah is a quick learner, asks good questions, and has a competitive spirit.
We know these qualities will serve Jeremiah well as he enters high school. Now that we know he is such a good leader, we are excited to see him get his very first job!
Congratulations Jeremiah!