Kayona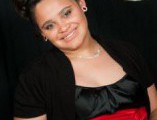 Kayona is a young woman with a great sense of humor and a huge heart for animals. She has a great deal of empathy for others and has made strong relationships with her teachers and other Eliada students. This outgoing and confident young woman has come so far in her time at Eliada.
Initially, Kayona was very shy and struggled with self-efficacy. Having gone through a great deal of adversity, Kayona was filled with anger and sadness. She did not want to be at Eliada and worried a lot about her mother.
As time went on, she began reaching out to others. She participated in activities and tried new things. She went from not wanting to play tennis because she didn't think she was good enough to being a great tennis player, golfer, minibike rider, zipliner, dancer, and more.
A great example of this is Kayona's participation in Eliada's spring dance. Kayona enjoyed getting her hair styled by the dance volunteers and loved the dress she picked out to wear. When she got there, she felt too self-conscious to dance. She took a deep breath and gave it a shot, dancing her heart out and having a wonderful night with her friends.
Since she was very young, Kayona has wanted to be a veterinarian. Her face lights up when she talks about animals, and she hopes to always come back and visit her horse friends long after she no longer lives at Eliada. That day will come very soon for Kayona, who has made so much progress that she'll be going home next month.
Kayona will leave with the coping skills she learned from her peers and teachers at Eliada. She is a great communicator who has gained confidence, a belief in herself, and new skills that will take her far in life.
Congratulations, Kayona! We are so proud of you.