Miles is the Hulk
Miles first arrived to Eliada's NC Pre-K program as a 3-year-old in early September 2017. His mother carried him in on her hip. He was extremely nervous and anxious in the beginning. Miles is a Developmental Day student and his mother, understandably, was concerned about him adjusting well to his new environment.
The first day of school Miles cried on and off throughout the day. He continually asked for his Dad.
Gradually, on his third week of school, he began to invest in the classroom and started to socialize with the other children. By the end of the year, he made significant progress in his speech, loved school, and was extremely well liked by his peers.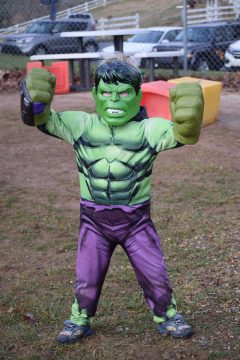 At the beginning of his second year in NC Pre-K, he was a completely different child from the previous year. He came in ready to be at school and has become a leader. He socializes and communicates well with his peers and teachers.
Miles always has a smile on his face. He often makes hand gestures and movements that indicate he is a superhero like Tony Stark, Peter Parker, Steve Rogers, or Bruce Banner. He loves running on the playground with one of his superhero costumes on, with a pack of children all running after him, calling his name. He loves to "rescue" his friends from difficult situations, like a true superhero!
Miles has also made huge progress on his developmental goals. He listens, follows routines, interacts and socializes with teachers/peers, and takes care of his needs. All of these skills are essential for success in Kindergarten and beyond. When Miles enters Kindergarten in the Fall, he will be ready to meet his full potential as he continues his education.
Congratulations Miles, we are so proud of your superpowers in Pre-K!