The holidays are always a special time at Eliada. Because of you, presents arrive at our doors daily, and the wishes of every child at Eliada are fulfilled. This past December was even more special for Cadance and Desmond. After a year of being in family foster homes, Desmond reunited with his mom Cadance just in time for Christmas!
Desmond and Cadance both worked so hard for this to happen. Back when the pandemic first began Desmond was with a foster family that had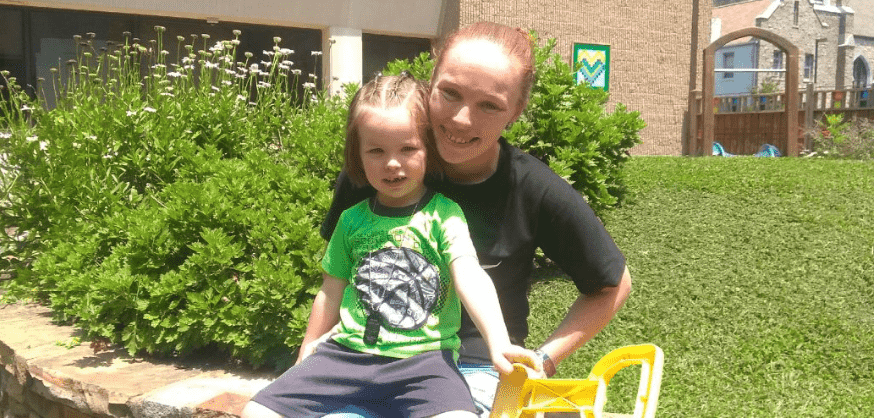 four other biological children. He was three at the time. When child care centers and schools were closing, the family found themselves homeschooling five children and were overwhelmed. Desmond was moved to a new foster home. Every transition is a challenge, and this one was no exception.
Desmond found the perfect foster family for him in his new home. The family helped potty train him, and offered a lot of support to Cadance. They succeeded in doing shared parenting and Cadance worked hard on meeting her goals. She surrounded herself with positive people, gained employment, and was active at every single meeting about Desmond. By October, Desmond was doing extended visits and overnights with her, and we knew reunification was on the horizon.
It isn't often that in family foster care, we get to share stories of reunification. Even to this day, Desmond's foster parents are still a part of his life and he goes to see them. They are a part of Cadance and Desmond's extended community and always will be.
This Christmas Cadance said Desmond got a bike and over 40 other presents, many of which came from Eliada and some of which came from friends and co-workers. Cadance said she "went all out" and was excited to celebrate with her son. She missed last Christmas with him, and was overjoyed this year when she learned they'd be together.
Cadance says things have been good this January and they continue to bond as a family. Just the other day she was feeling sad, and Desmond was on the couch watching PJ Masks. He said, "mom come over here," and wrapped his arms around her. She immediately felt better.
When Cadance learned we wanted to do a success story she told us if her story could be a lesson to others, then she was happy to share. She said, "It's your kids and you can't give up on them. I couldn't' give up on that little boy to save my life!"
We are so happy for this family – a true success story!