ESTA stands for Eliada Students Training for Advancement, and the program serves older youth transitioning to adulthood who need help during this time in their lives.
Kiana heard ESTA staff circulating around Hillcrest and became instantly interested in joining the program. After joining, she worked one-on-one with ESTA staff and attended job counseling workshops. She also learned skills she maybe didn't expect, like how to accept help. She would bring her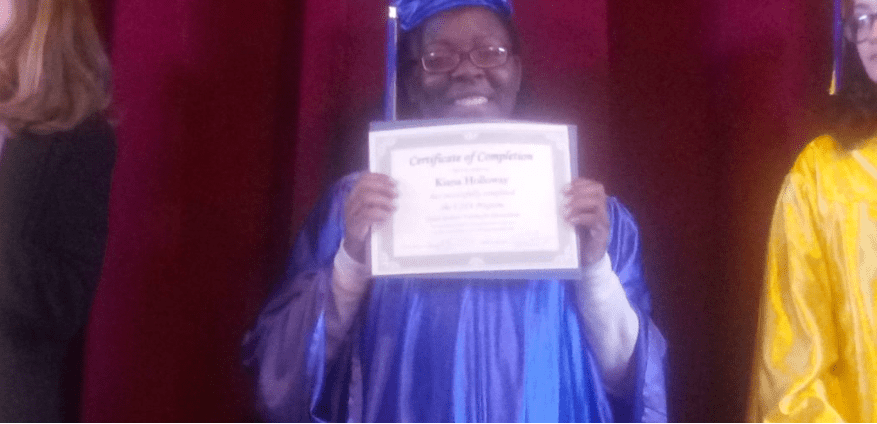 daughter E'niyah to class at Eliada, and over time she became more comfortable with letting her classmates help care for her daughter.
Today, Kiana is a full time mom and full time student. She's working on both her GED and is in a CNA program. She expresses that she's always wanted to help people, "I am kindhearted. Since I was 5, I helped take care of my great-grandmother until she entered a nursing home. I genuinely enjoy talking with the elderly. They have great stories." Ultimately, Kiana wants to be an RN, and she's very focused on reaching her career goals.
Since being in ESTA, Kiana's also improved her living situation. In Hillcrest, she struggled with bed bugs, but she and her fiancée recently received section 8 vouchers and moved into a house. She had to get rid of all her furniture, but ESTA stepped in to help out with beds and other furniture, so her house was move-in ready!
Kiana, like many of our ESTA students, is also a mom. She bonded with other moms in the program. She told us she's been posting updates on her social media about her education, and her fellow ESTA graduates have been telling her how proud they are of her in the comments.
Kiana and her fiancée have a two-year-old daughter together, and two other teens from his previous marriage.
Thanks to ESTA, Kiana was able to find child care for her daughter. Her daughter E'niyah has a speech and occupational therapist, both of which she has not been able to see in-person due to the pandemic. She's still made so much progress with her speech and is talking a lot. Kiana says, "She's so smart. Even when she wasn't speaking, she always knew what you were saying."
The kids have helped her with her homework, and she helps them with theirs. They're very supportive of her education, and her fiancée is working to support the family so she can focus on her career goals.
Kiana is also so generous. Since graduating, she's donated kids clothes to the ESTA program, and she always limits the help she'll accept because she says, "Others need it more." Kiana and her family are truly worth admiring!