Employment Opportunities

Eliada Benefits
We offer an impressive benefits package, competitive wages, and opportunities for growth. Benefits for full-time employees include an excellent health insurance coverage, life insurance, 403B retirement plan with a company match, bereavement leave, and generous paid vacation and sick leave.
Eliada's Employee Assistance Program offers 5 sessions of free counseling for Eliada employees and/or any member of their immediate household, plus a wealth of resources on personal, family, and work issues.
Mission Driven Employment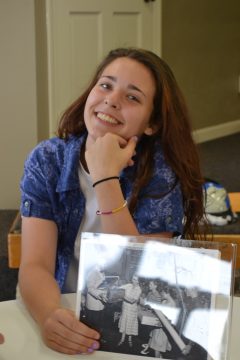 Eliada values personal wellness. All employees have 24/7 access to a gym and recreation center with weights, treadmills, foosball and pool tables, and a rock climbing wall. Miles of trails crisscross our campus and are great for hiking, walking, or biking.
Our employees have the opportunity to make an incredible difference in the lives of young people! Individuals who are mission driven and share our values will be a strong match for Eliada.
Questions
For questions regarding employment, please send inquiries to Maggie Brown at recruiter@eliada.org. Please note that incomplete or incorrect applications will not be reviewed. Additionally, resumes will not be accepted in lieu of applications.
Eliada does a complete and thorough background check on each employee. If there is anything that may show up on the background check, please note it. It does not necessarily preclude employment. However, failure to disclose may result in automatic exclusion or dismissal.
To apply for any positions listed, please click here.
Residential Mental Health Treatment
Are you interested in a unique challenge working with children in need of mental health and behavioral intervention? Eliada operates several residential mental health treatment facilities that teach children ages 12-17 anger management skills, coping skills, and social skills to help them become functional members of society. This is a challenging field where staff are responsible for providing direct supervision, setting and maintaining firm expectations, performing behavioral intervention, and utilizing de-escalation techniques on a daily basis. As a 24 hour treatment facility, the residential program is staffed around the clock. Check out our openings below!
Licensed Clinician
We are looking to hire a Licensed Clinician who wants to be a part of the Eliada family. This is a unique setting as a standalone Residential Treatment/group care facility. As a Clinician at Eliada, you will work with young adults, 12-17 years old, struggling with behavioral and emotional challenges, but who have endless potential. As a Clinician, you will provide individual and family therapy, group therapy, and clinical assessments. You will be part of a strong team of professionals who all work together to create treatment and transition plans for youth living at Eliada. We require a Master's Degree in Social Work, Psychology, or Counseling with current clinician licensure, or provisional licensure, in NC. We also prefer you to have a minimum of 3 years of experience in therapy and mental health services with children and adolescents. Click here to view the Licensed Clinician job description.
Registered Nurse
Guided by excellence, integrity, teamwork and compassion, our nursing staff works closely with 6 separate residential cottages to ensure a healthy, therapeutic environment that promotes learning and growth for the students in our Residential Treatment Facilities. Enjoy some of the best views in town as you walk between the cottages providing care. Nursing staff provide restrictive intervention monitoring and utilize the agency's crisis intervention procedures. Other responsibilities include administration of medication and implementation of each students' health plan. This position requires a valid NC RN licensure. Experience working with children and/or adolescents strongly preferred. The ability to work in a high pressure and high stress environment is a must! Click here to view the PRN Registered Nurse job description.
Residential Counselor
The Residential Counselor (RC) works a second shift schedule in the residential mental health treatment program. The RC is responsible for providing a safe and therapeutic environment while teaching anger management, social, and coping skills to the student population. The RC is responsible for monitoring the behaviors of the students. This position offers an outlet for creativity with activities and allows staff to bring their strengths and interests to the students in their care. Applicants must be at least 21 and possess a high school diploma or GED. A degree in Human Services and/or previous relatable work experience is a plus! Click here to view the Residential Counselor job description.
Night Residential Counselor
The Night Residential Counselor (NRC) works a third shift schedule in the residential mental Health treatment program. The NRC is responsible for providing a safe and therapeutic environment for the students overnight. Nighttime is often a very challenging time for children who have struggled with feeling safe. This position offers the opportunity to reframe those negative feelings by providing a safe environment and being a supportive presence to get the students day started off right! The NRC is responsible for supervising and monitoring the behaviors of the students. Applicants must be at least 21 and possess a high school diploma or GED. Click here to view the Night Residential Counselor job description.
PRN Residential Counselor
PRN (which essentially means "as needed") Residential Counselors are able to work in both the residential mental Health treatment program and the Day Treatment program as shifts become available. All PRNs have the option to move into full-time positions within the organization as they become available. This is an excellent opportunity for college students or recent graduates with an interest in mental health, social work, education, counseling, psychology and related fields to gain valuable experience and training in the area of their academic pursuits. PRN Staff have the flexibility to work between 8-40 hours per week, and maintain a flexible schedule. Applicants must be at least 21 and possess a high school diploma or GED. Click here to view the PRN Residential Counselor job description and click here to view the PRN Night Residential Counselor job description.
RISE Intern
The RISE Internship program is a 13 month-long placement that provides recent college graduates the opportunity to gain valuable experience in the mental health field. RISE interns work as direct care staff in our residential mental Health treatment program. Throughout their time at Eliada, our interns become familiar with how to work and interact with children and adolescents who have been diagnosed with a variety of mental illnesses. This is a unique chance to acquire job-ready skills and credentials that will put you ahead of the competition. Many of our former RISE interns have gained admission into top graduate programs after completing the internship. Applicants must be at least 21 and have recently earned a Bachelor's Degree at an accredited college or university. You can learn more about this program by visiting: /employment/rise.

Child Development
Eliada provides a caring environment where children meet developmental milestones and acquire a love of learning that lasts a lifetime. Eliada offers preschool, pre-kindergarten, after school, and summer camp services to children in our community. Do you have what it takes to work in Eliada's Five-Star Child Development Program? Check out our openings below!
After School Group Leader
The Group Leader is responsible for planning and implementing enrichment program activities, homework assistance, snack preparation & distribution, daily clean-up assignments, interacting and communicating with children, parents, volunteers, and community partners as needed. Schedule includes the program hours of 2:00-6:00pm, Monday – Friday during the school year and 7:00-5:30 during the summer, along with weekly site meetings, field trips or special activities on Friday afternoons, quarterly Family Night events, and other events as planned. The Group Leader musts be at least 18 years of age with a High School Diploma or GED. Must have the ability to effectively manage youth and behaviors in a large group setting while facilitating enriching activities. Click here to view the Group Leader job description.

Support Services
Eliada has a variety of support positions that have an impact on the children we serve without being direct care. These positions include anything from administration to food service and maintenance. Each position has an indirect impact on each child's success while at Eliada. These positions are often part of a small team of dedicated employees that strive to do what they can to achieve the organizational mission of Helping Children Succeed. Check out our openings below!
Food Service Assistant
The Food Service Assistant is responsible for overseeing the meal/food program for the Day Treatment Program and PRTF & Level III Residential Programs. The Food Service Assistant will assist in preparing meals according to established menus. Must be able to understand and follow through with verbal and written instructions, and be detail oriented. This position does involve kitchen clean-up. The Food Service Assistant works from 12:00PM to 8:00 PM, Monday through Friday. A Minimum of high school diploma or GED is required. Five years of experience in food preparation in large quantities is preferred. Must be able to perform medium work exerting up to 50 pounds of force occasionally, and/or up to 20 pounds of force frequently, and/or up to 10 pounds of force constantly to move objects. Must possess visual acuity for using measuring devices, reading menus and contents of food packaging and reading gauges. Click here to view the Food Service Assistant job description.
Temporary Maintenance Technician
Under the direction of the Maintenance Supervisor, the Technician performs work of average to considerable difficulty of building maintenance to include the primary fields of electrical; heating, ventilation and air conditioning (HVAC); carpentry; plumbing, etc.; and performs other tasks as assigned. A basic working knowledge of all levels of building maintenance and experience working with hand, power, and specialty tools is required. Three years of experience are highly preferred. Possession of a valid NC driver license is required and be insurable by Eliada's insurance carriers. This is a temporary position lasting approximately 60 days. Click here to view the Maintenance Technician job description.