Equine Assisted Therapy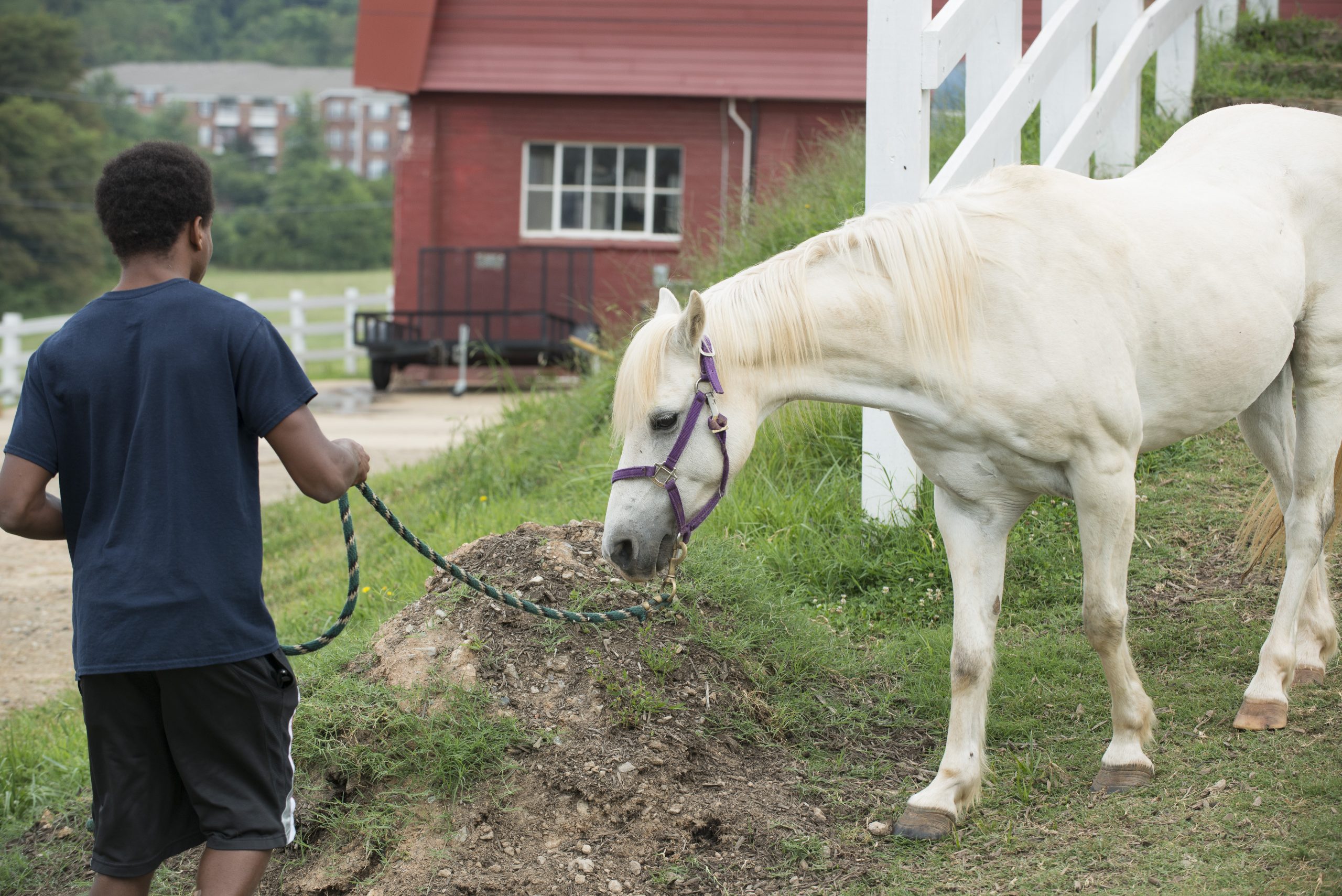 Thank you for your interest in our equine assisted counseling services! We look forward to the opportunity to serve you.


Download an application for services. Please keep in mind we have limited spaces available and will maintain a wait-list. Once you fill out an application, we will be in touch shortly after. For questions or an application, please email

Access a full list of FAQs. You can always contact us if you have questions that aren't answered here.
Equine Assisted Therapy at Eliada
"The most loving thing about animals is they love you no matter what happens with your life. It doesn't matter what your emotions are, they will love you no matter what you do. They truly display unconditional love."

~Eliada youth
Contact Us
One of the most important aspects of your counseling experience is the relationship that you will form with your treatment team. We will strive to provide you with a safe space to work with the horses and move towards growth and healing.
We are honored that you are considering us to help you along your journey. We are happy to speak with you over the phone to determine if we will be a good match for your needs.
Please feel free to give us a call at (828) 254-5356 Ext 304 or email

The Basics
Equine Assisted Psychotherapy can serve children, adolescents and adults who are struggling with many varieties of behavioral health challenges. It can be helpful for people who have difficulty managing relationships, understanding their emotions and behaviors, or who feel stuck. It is a wonderful model for people who are open to new ways of learning about themselves and who want an opportunity to 'see' how their behaviors, patterns, thoughts and beliefs impact themselves and those around them.
12-21 years of age
Youth of all races, religions, ethnicity, gender, sexual orientation, genetic information, disability or national origin.
Youth with at-risk backgrounds (placements and services in the Foster Care/Child Welfare and Mental Health systems).
Prior or current histories of behavioral, psychological, or biological needs and issues.
Other harmful or disruptive behaviors/symptoms.
What insurance do we accept?
Medicaid and Private pay at this time
How much does it cost?
$150 a session
The Model of Therapy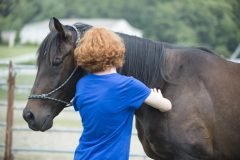 Equine Assisted Psychotherapy and Learning (EAP of EAL) is an experiential therapy that utilizes horses in the therapy process. This means that participants learn about themselves and others by participating in physical activities involving horses and processing the thoughts, beliefs, behaviors, and patterns that arise during the experience.
Eliada practices the EAGALA (Equine Assisted Growth and Learning Association) model. The basis of the EAGALA model is that all participants can discover the best solutions for themselves when given the opportunity. This is a team approach, in which a licensed mental health professional, equine specialist, and horse all work in collaboration with a participant. The participant does not ride the horse, but works with the horse while on the ground. Therapy goals combined with experiences with the horses allow the participant to explore, problem solve, and discover strengths while learning.
All EAGALA certified clinicians and equine specialists abide by a code of ethics. EAGALA has high standards to ensure best practices and highest level of care.
What is unique about this therapy?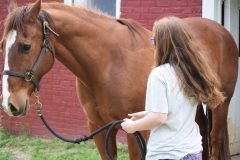 Horses are large and powerful animals. They can sometimes place you out of your comfort zone, which provides the opportunity to experience new things.
Horses are highly attuned to their environment and the non-verbal messages and body language they perceive in humans. Horses respond in the moment to the nonverbal messages humans are communicating. A horse is inherently authentic and they don't try to be something they are not. They do not care about all the labels humans put on themselves. They will provide honest immediate feedback based on the interactions you are having with them. The feedback the horses provide helps the participant to gain insight into their own thoughts, beliefs, actions and patterns that they may be struggling to understand and provides an opportunity to adapt and create new ones.
If a participant is looking for a different response from a horse, they will have to try something different. In order to get a different response, the participant will have to make a genuine transformation within themselves. Horses naturally provide opportunities for people to make change happen.
Horses just by doing, moving, and reacting (or not reacting in some cases) can help participants learn from natural consequences, mistakes and successes.
What does a session look like?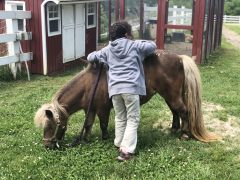 The horses respond differently with everyone. There is not a "right way" to have a session, and every session is different for every person based on what they want and need to work on. It is important to know that working with horses does not always mean that every session is fun. Therapy and learning can be really hard work. Tough stuff is going to come up. Sometimes people can get really frustrated, angry or sad when these things come up. Therapy and learning is a process.
All sessions include a licensed therapist and a certified equine specialist, and a horse working with the participant. We view the horses as true partners in your healing and learning journey. They are sentient beings capable of offering valuable contributions. We allow them to respond naturally and organically during each session. The horses are usually not confined or restrained in any way. The facilitators are there to provide opportunities for the participant to be with the horses and help them process the experience as it is occurring.
All sessions occur on the ground. No riding is involved and participants do not need to have previous horse experience. The experience is not about learning horsemanship and the participant is not typically instructed in horsemanship skills or riding. The experience is about self- discovery through observations and interactions with the horses.