Eliada Students Training for Advancement (ESTA)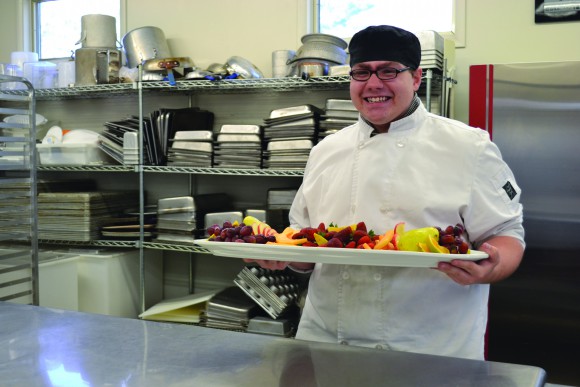 For admission to ESTA, complete and submit the student application here.
For more information about applying to the program or to refer a student, contact Ted Stump at .
Learn more about ESTA by downloading the informational 2015 ESTA Booklet.
Eliada Students Training for Advancement (ESTA) provides 30 youth access to workforce development training, life skills development, and academic assistance.
ESTA focuses on the hardest to reach youth 16-22 who are currently in or aging out of foster care, have come into contact with the juvenile justice system, or have multiple barriers to employment. Last year, Eliada received 403 referrals for foster care services for youth ages 13-21 in Buncombe and nearby counties. 10% of youth age out of foster care every year in NC. After aging out, 25% will be homeless, 45% never complete high school, less than 3% achieve a college degree, and 50% are unemployed.
These youth have significant barriers to achieving their personal and professional goals. They face financial insecurity, low self efficacy, housing instability and lack role models to support them. These youth have limited resources and guidance concerning independent living, educational resources, and career development opportunities.
Simultaneously, local businesses are having trouble recruiting entry level "go-ready" employees. ESTA seeks to work with vulnerable youth, while helping to meet the needs of our growing business community.
Workforce Development
ESTA provides youth the opportunity to immerse in a diverse career-entry-program. Eliada partner with employers in the community who invest in youth by teaching them specific skills relevant to their industry. Youth leave the program "go-ready" with entry level employment, post-secondary education, certification or industry-endorsement, independent living skills, 21st century workplace skills, and entry into a clear career pathway.
Transitional Living
For youth aging out of foster care Eliada offers a transitional living option that focuses on independent living skills and seeking safe, affordable housing.
Every young person needs a safe, stable place to live. We believe in the value of transitional living, fostering independence gradually and with the support of caring mentors and adults. Students live in furnished apartments and have access to Eliada's workout facilities, a dedicated student union, and a live-in Student Affairs Coordinator who is available 24/7 to address all student needs.