Athena came to us when she was 3 years old. She had fears of nap-time, being in the dark, and being alone. She was highly sensitive to loud sounds in the classroom – even the sound of a flushing toilet. 
She began to have difficulty transitioning to different activities during the day. She would lose control and become very angry. If she did not get her teacher's full attention, or if she was asked to do something she did not want to do, she would become unsafe and climb shelves, knock down furniture,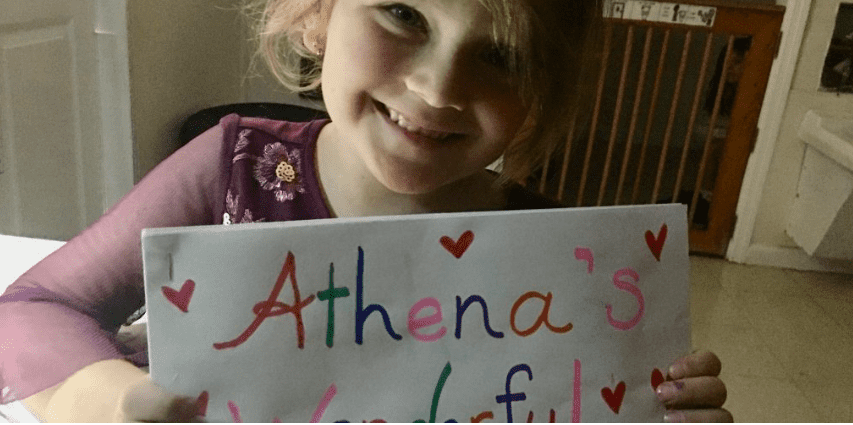 scream, throw toys, hit and kick. Nap-time became especially challenging, and many times we had to call her mom to come pick her up because her behaviors would become too unsafe.
Her teacher Ms. Ainhoa met her back in February prior to the pandemic. "Athena was full of enthusiasm, spark and edge. We got along well from the get go. The more I got to know her, the more I realized she had a lot of unraveled storms brewing in her. She longed deeply to connect." Ms. Ainhoa realized Athena was having horrible nightmares, which lead to her fear of nap-time. She worked with Athena on building trust so that she could feel safe enough to relax. 
We referred Athena to the Sunshine Project, and they stepped in and began setting up in-home interventions along with helping develop strategies for her here at school. 
Then came COVID-19. Athena was home for many months during this time. Returning to school at Eliada was a bit of a struggle, but each day was different. Ms. Ainhoa and her teaching team worked extremely hard to help Athena feel safe and loved at school, and integrated different techniques that Athena could use to calm her body and make safe choices. 
Athena has used art to express her ups-and-downs. She has engaging art materials she can explore during nap-time, so she can feel free from any pressure to fall asleep, and can find ways to enjoy rest in her own way. Her teachers also mist a special glittery monster spray on her nap mat to ward off the nightmares.  
Athena also uses breathing strategies. One day when Ms. Ainhoa was helping another boy in class to calm down and take deep breaths, Athena came over and said she wanted to help. She told them that she learned to take 5 breaths, 1 with each finger on her raised hand. She did a great job helping her classmate in such a kind way.
Ms. Ainhoa let Athena teach the whole class her 5 breaths, 5 fingers strategy. She did a great job showing them that as you put a finger down you take a deep breath. Ms. Ainhoa sat next to her, supporting Athena as she became the teacher. Every day, the class uses this breathing strategy and builds awareness for how it feels to be calm.
Ms. Ainhoa also works with Athena and the class on positive affirmations that are posted around the room. Some say, "I can do it. I am safe. I am a friend. I am love."
Athena has grown tremendously. Now it has been nearly a month since Athena had to go home due to her behaviors. She is able to make choices that help her stay calm and keep her teachers, classmates, and herself safe. She can stay at school with her friends for the entire day where she shares and is kind to her classmates! She has also very recently become a big sister and has been wrapping up baby dolls very gently and cradling them! She has a bright spirit and is very wise, nurturing and loving.
The classroom motto is "Never Give Up" and we are so proud of Athena for doing just this. Athena is leaving us for Kindergarten and we know she'll do great! Congrats Athena on being chosen for a success story!