Annual Eliada Corn Maze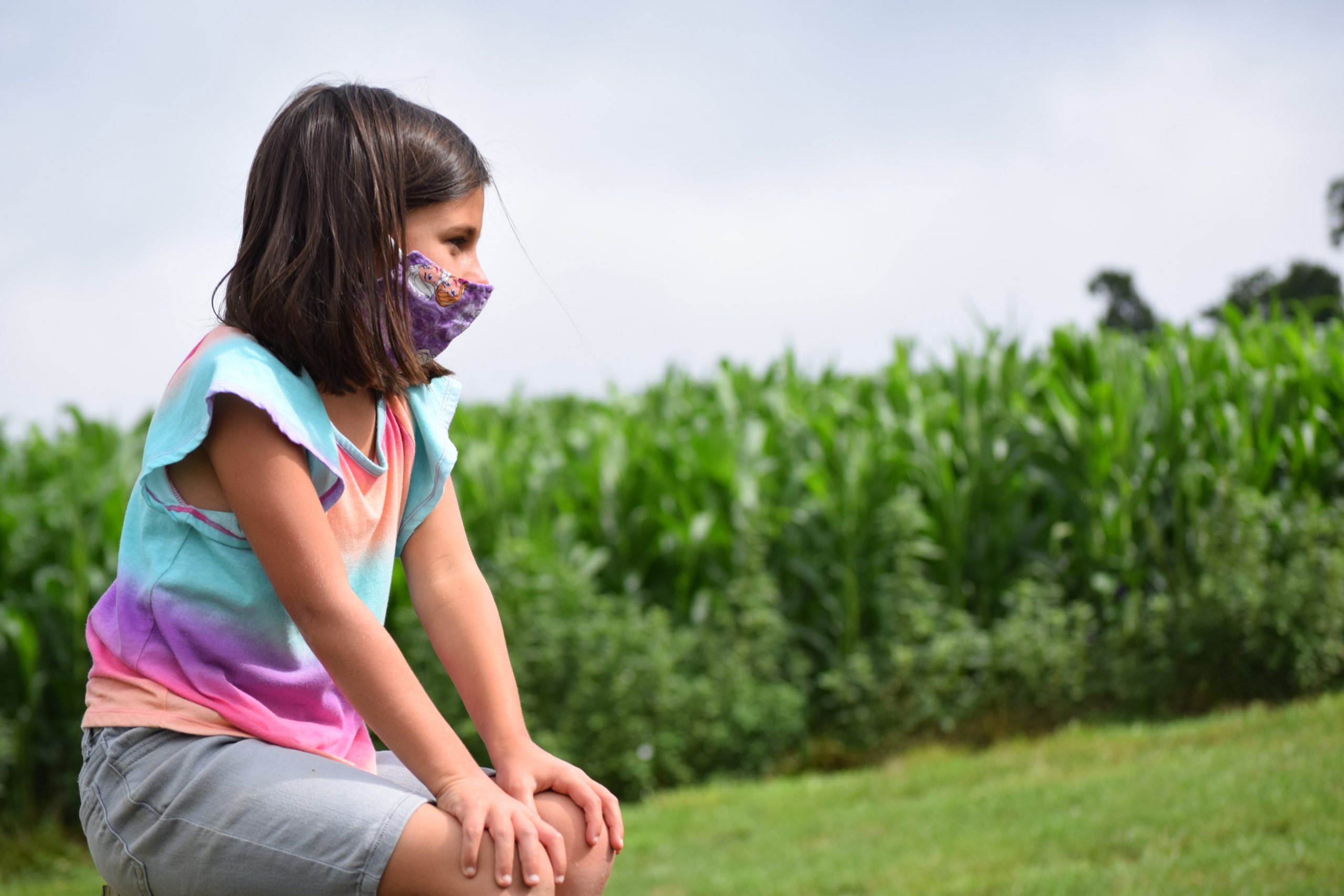 Welcome to the 2020 Annual Corn Maze!
Join us for aMAZEing fun and a CORNucopia of safety measures.
Due to rain, the Eliada Corn Maze will be closed on 10/25. To reschedule your visit, email and we'll ensure you come out for a great time!
You can see a full list of our safety measures below.
We are WNC's ONLY non-profit Corn Maze with 100% of proceeds benefiting the children at Eliada! Not only does your ticket purchase come with access to family-friendly fun, but it directly aids in the growth and success of Eliada's kids as we all navigate this pandemic.
Service Pets Only!
---
Dates and Times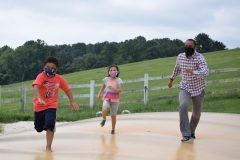 Eliada's 2020 Annual Corn Maze will be open from Friday September 25th through Sunday November 1st on Fridays, Saturdays and Sundays.
Each day, you can purchase tickets during for a specific time slot, allowing us to maintain safety and limit the number of people at the maze at once.
*If we have to close the corn maze due to rain, there will be a rain make-up days on two Thursday evenings in October: October 15th and 29th. We'll run the entire day, like the Saturday and Sunday schedule. You can email to let us know which makeup day you're attending. Keep in mind, if it is drizzling, we will keep the corn maze open. We will post weather related updates to the Eliada facebook page.
Fridays:
Saturdays and Sundays:
9-11am
11:30am-1:30pm
2-4pm
4:30-6:30pm
Purchase Tickets
You can select your day, time, and purchase tickets here! Tickets are $12 for adults and children 4 and up. Children 3 and under are FREE.


Snack Shack Hours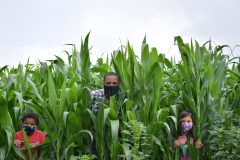 This year, Eliada is pleased to offer snacks, beer and cider to guests during select hours.
Friday: 3pm-7pm
Saturday: 11am-6:30pm
Sunday: 11am-6:30pm
Attractions and Safety
General Safety Guidelines
Masks must be worn at all times, except for children under the age of five years old.
Maintain social distancing with those outside your family.
There will be a maximum number of attendees at the event at a time. Attendees will register and purchase tickets in advance. You will be able to select the 2-hour block of time you want to attend with your family. Time slots will automatically close once the max limit is reached.
Please promptly leave the corn maze when your 2 hour time slot is up, so we can do a cleaning before the next group arrives.
Minimize time indoors. You may use the indoor restrooms, and check-in indoors. We will give you a map for the maze and offer pumpkins, t-shirts, and other fun merchandise. But we won't let you linger! Time to get outside, stay safe, and have fun!
Hand sanitizer will be available throughout the event.
Safety at our attractions
Our giant jumping pillow for children and adults has become a quick favorite! Only 1 family will be allow on the jumping pillow at a time, or 6 people at a time. The pillow will be disinfected every 2 hours.
Enjoy our tractor ride as we drive you around our field and through a portion of the corn maze! Only 2 families allowed on the hayride at a time. Please maintain distance between families.
Fire away!! Load the corn cannons with an ear of corn, aim, and shoot at one of the giant pumpkin men targets! Staff/volunteers will disinfect cannon handles between uses. Please wait for staff to complete cleaning before taking your turn.
Enjoy the large maze trails and story trail featuring Spookley the Square Pumpkin! Maintain social distancing in the maze. If you need to pass others in front of you, please do so respectfully while maintaining distance on the maze trail.
Watch out! Our giant tubes slide might just sweep you right off your feet! We typically have two slides, but for safety we are only offering the slide that is uncovered. Please maintain social distancing while waiting your turn to go down the slide!
Do you have a "creepy crawler" of your own? Then the spider web climber is the place for them! Only 1 family at a time, or only 4 people at a time to maintain social distancing!
It's time to race! Hop on a rody horse, and race through our hay bale race track. The horses will be disinfected after every use.
This year we will not be offering the corn box, as this is an attraction where we cannot sanitize and ensure a safe, clean environment.
Volunteering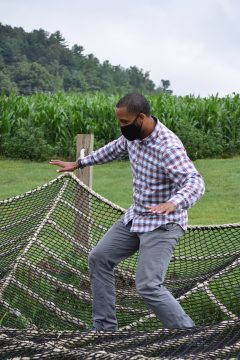 Want to give back to the community in a fun and rewarding way? Then join in and volunteer at the Eliada Corn Maze. Click Here to SIGN UP! Click Here to read more on volunteer perks.

Groups can email Rebecca Boline at for group opportunities.
If you have specific needs related to a physical disability be sure to let us know and we will be happy to accommodate you in your role assignment.
Directions
We are conveniently located just five minutes from downtown Asheville at 2 Compton Drive, Asheville, NC 28806. From Downtown Asheville, take Patton Avenue West to New Leicester Highway. Follow New Leicester for 1.4 miles, then turn right onto Compton Drive. You can't miss the Corn Maze!
---
Contact Us
Questions about the Corn Maze? Contact
or (828) 254-5356

Thank you to our Sponsors