Eliada's Annual Corn Maze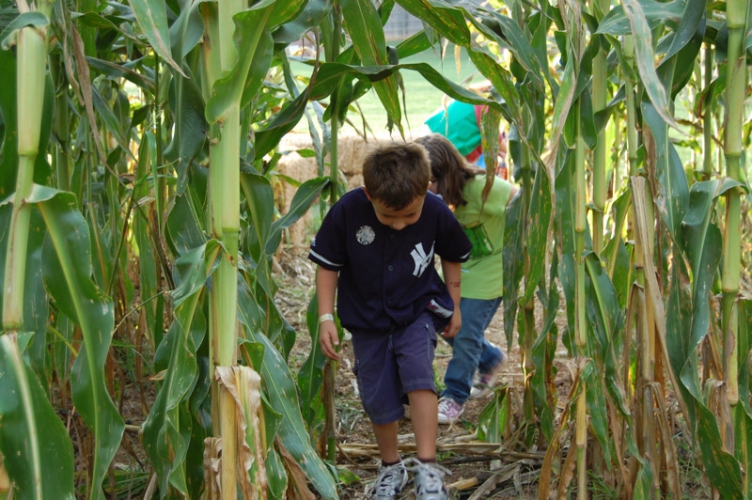 Now in its fourth year of operation, Eliada's annual corn maze will offer twelve acres of maze trails and many additional attractions to delight children of all ages. Named one of the top 12 corn mazes in the country by Endless Vacation magazine, the event brings over 20,000 visitors annually to the Eliada's century-old campus.
"Coming to Eliada's annual corn maze has become a tradition for many families," says Carolyn Ashworth, Eliada's Director of Development. "The maze trails provide hours of entertainment, but there is so much more for children to enjoy. Last year, the favorite attraction was our giant tube slides. This year, we've added a 20 x 20 spider web climb-on, new giant pumpkin men for our corn cannon targets, and a storybook trail for younger children."
Other popular attractions include the giant sandbox filled with corn kernels, haybale maze, hay ride, pumpkin patch, barrel train, and corn toss games.
Spookley Storybook Trail
Eliada has devoted one area of the corn maze to the Spookley the Square Pumpkin Storybook Trail. Based on the popular children's book, Spookley is a pumpkin who is a little different, but he uses his unique shape to save the day.  Featured on the Disney Channel, the story teaches children to embrace diversity and has a powerful anti-bullying lesson.  Children learn the Spookley story as they walk the 3D Storybook Maze Trail.  They can have photos taken in a special storybook cutout or with a giant Spookley, and can also join Spookley in taking a bullying prevention pledge! The Storybook Trail is wonderful for field trips and school groups.
Operating Hours & Ticket Prices
The maze will be open each Friday, Saturday, and Sunday beginning September 7 through October 28. Operating hours are 4-8 on Friday, 10-8 on Saturday, and 11-7 on Sunday. Ticket prices are $9 for adults 12 and over and $6 for children ages 4-11. Group rates, field trip rates, and birthday party offerings are also available. As always, 100% of proceeds from the corn maze benefit children and families served by Eliada.