Become a Foster Parent
Interested in learning more about becoming a foster parent? Fill out this interest form, and one of our Licensing Specialists will be in touch!
Click here for the interest form!
We have a foster parent training series that we schedule throughout the year. Here is the next available training start date!
October 1, 2018: This 10 week series will continue on Mondays from 5:30pm to 8:30pm on Eliada's campus in the PARC Building. Childcare will be provided!
To sign up to participate or learn more about individual and group training options, please contact our Foster Parent Recruiters at 828-254-5356 Ext 381 or fosterachild@eliada.org.
We are looking for professional, dependable, and enthusiastic individuals to train to become foster parents (family foster care, therapeutic foster care and respite care providers)!
Example of Foster Parenting Success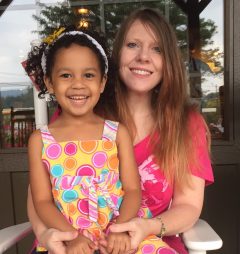 Imagine you were never picked up and held in the loving arms of a parent.
Imagine you were in a potentially dangerous situation because of the adults around you.
That is the circumstance Kaydonn as a 3 month old and Aubrynn as a 3 year old found themselves in before entering the foster home of David and Melissa Barker.
The first night at the Barkers, Aubrynn screamed all night. New people and a new home is scary and confusing.
Kaydonn initially didn't engage with David or Melissa. His trauma is complicated by his autism. Even today he remains nonverbal. It took one year of living with them before he would play with toys.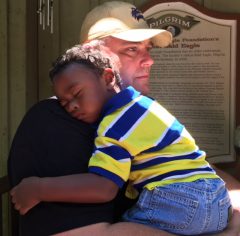 After two years of providing foster care, David and Melissa completed their adoption of Kaydonn and Aubrynn.
Kaydonn has learned to communicate through music and is now learning sign language! Aubrynn is now in preschool and is confident and social with her classmates!
Despite the continued challenges Kaydonn and Aubrynn face as they heal from their past trauma, they are thriving with their forever family.
Like the Barkers, YOU too can help children thrive by becoming a foster parent!
Why Should I Become a Foster Parent?
Foster parenting is about changing lives one child at a time. It is about believing and investing in the future. We hope you will consider making that investment.
Click here for the Foster Parent Application.
For information on the required orientation for prospective foster parents, Click here.
Click here for a link to the Foster Hope, Foster Love, Foster Families video.
What Kind of Support Can I Expect?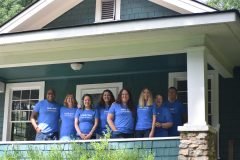 Training to become a foster parent is provided by Eliada staff who are dedicated and qualified professionals. Eliada provides this training free of charge. Thirty hours of training for family foster care and forty hours of training for therapeutic foster care. These trainings are provided in a group setting or individually before a child is placed in your home.
Monthly in-service training is provided at Eliada as well. These trainings offer time to sharpen parenting skills and network with other foster parents.
Each foster parent works with a consultant who is available 24 hours a day, 7 days a week. Eliada's consultants provide individualized supervision and support to foster parents. Eliada's professional staff of clinicians, psychologists, psychiatrist, nurses and other experts in the field are also available to foster families to assist with extra support.
Respite care providers are also available for foster families.